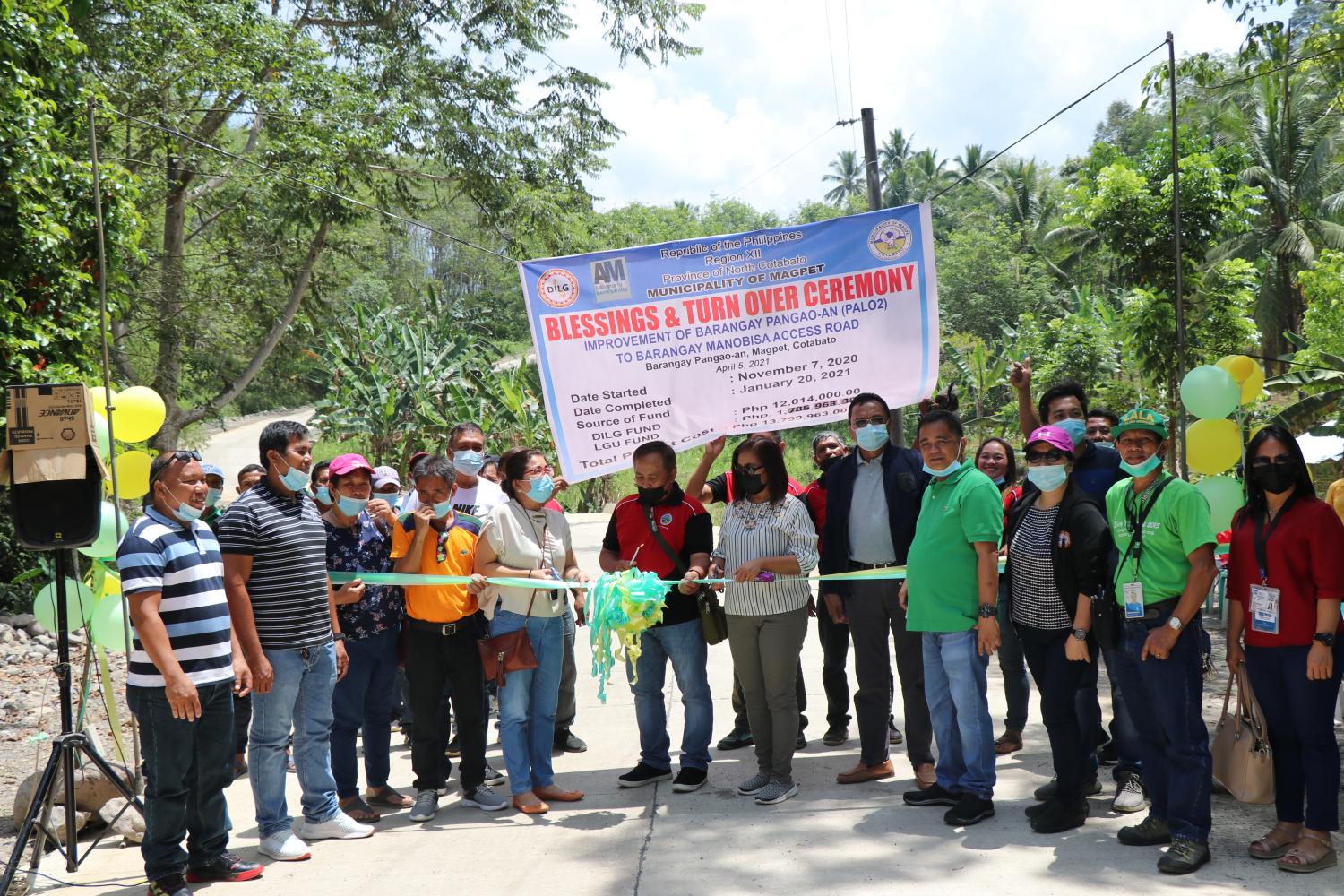 DILG XII Regional Director Josephine Cabrido – Leysa spearheaded the turn-over of the Php 13 Million worth concrete access road to LGU of Magpet, Cotabato Province on April 5, 2021.
In her message, Regional Director Leysa commended the LGU's fast and successful implementation of the concrete access road linking Barangay Pangao-an to Barangay Manobisa in the said municipality. She highlighted the Department's commitment to capacitate and work alongside with the LGUs, as it aims to provide functional projects based on the needs of the residents.
Together with Director Leysa were Municipal Mayor Florenito T. Gonzaga, Vice Governor Emmylou "Lala" Taliño-Mendoza, DILG Provincial Director Ali B. Abdullah, and PDMU Chief Herminia Ontoy, and the officials of the beneficiary barangay.
Mayor Gonzaga, in his message, proudly presented the road project to the recipient residents saying that it has been always his goal, together with the LGU Magpet, to provide projects that would assist their constituent's livelihood, daily life, and economy of the municipality in general.
He also requested them to place their trust and support in the LGU's leadership, as he himself assured that Magpet LGU will continue to implement projects that will promote peace and progress in the community. Mayor Gonzaga acknowledged as well the assistance given by DILG in their municipality's development by funding numerous project proposals.
It is expected that the 990-meter concrete road connecting the neighboring barangays of Pangao-an and Manobisa will serve 2,070 town residents and those from the nearby areas as well.
In her message, Vice Governor Emmylou "Lala" Taliño-Mendoza, also commended Mayor Gonzaga and the rest of the LGU officials for their full support to the government. "The projects are of great use for the public.", she opined.
DILG Director Leysa highlighted that from 2012 to 2020, LGU Magpet has been allocated a total of PHP 83,374,502.70 worth of projects, which in turn were all successfully implemented. The Director congratulated the whole LGU and the barangay leaders who successfully finished and implemented Assistance to Municipalities (AM) Projects 2020 for the 1st Quarter of 2021 with 100% SubayBAYAN Compliance Rating as of March 29, 2021.
RD Leysa lauded everyone and reminded them to take care of these projects, to be used not only this time but for the future generations to come.