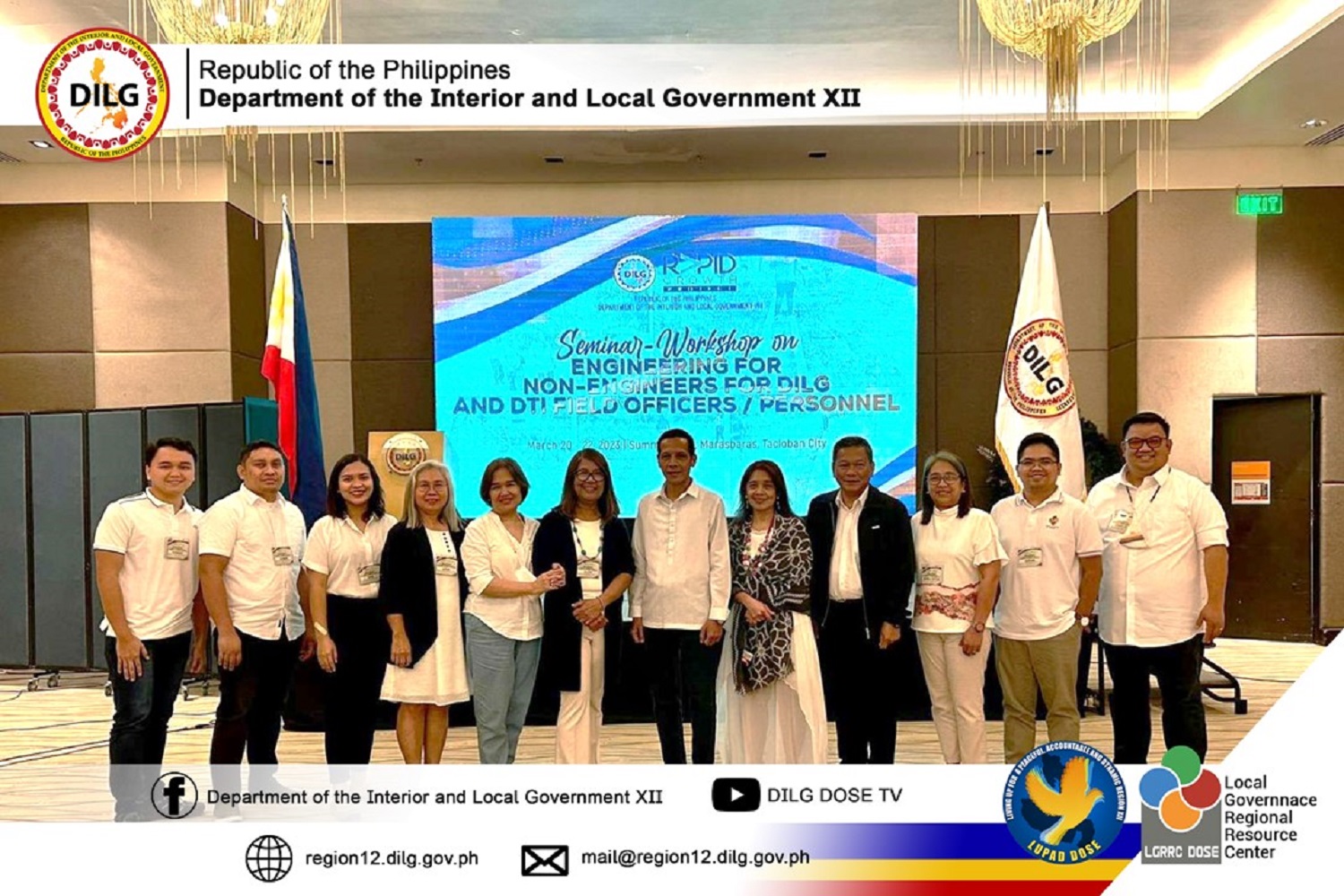 The DILG's Office of the Project Development Services (OPDS), in partnership with Department of Trade and Industry (DTI) and International Fund for Agricultural Development (IFAD), conducted a : "Seminar-Workshop on Engineering for Non-Engineers for DILG and DTI Field Officers/Personnel" from March 20 – 23, 2023, the delegates where from DILG and DTI personnel from Regions 8 to 13 .
The resource persons were from the DILG Central Office – Project Monitoring and Evaluation Division (PMED) headed by PMED-Chief, Engr. Cheryl C. Agustin-Flores, the activity was graced by Rural Infrastructure Engineers (RIEs), Project Evaluation Officers (PEOs) and Municipal Local Government Operations Officers (MLGOOs) of DILG Region 12, who were identified as beneficiaries of the Rural Agro-Enterprise Partnership for Inclusive Development or the "RAPID" Growth Project of the Department of Trade and Industry (DTI).
The activity intends at providing knowledge especially for non-engineers on the basic knowledge and skills on engineering or construction and to raise awareness on the technical dimensions of infrastructure projects.
To assess the participants' application of their newly-acquired knowledge after a series of training sessions, the facilitators lead them in a Site Visit to an ongoing Farm-to-Market Road under the joint efforts of the LGU-Jaro and the RAPID Project which is located at Jaro, Leyte, amounting up to 32-million pesos. There, the delegates noted findings and recommendations which would be beneficial for the project. Shortafter, a post-test was given to the participants, and the DILG Region 12 were proud after Mrs. Maria Fritzie A. Español, the MLGOO of Malapatan, gained a perfect score.