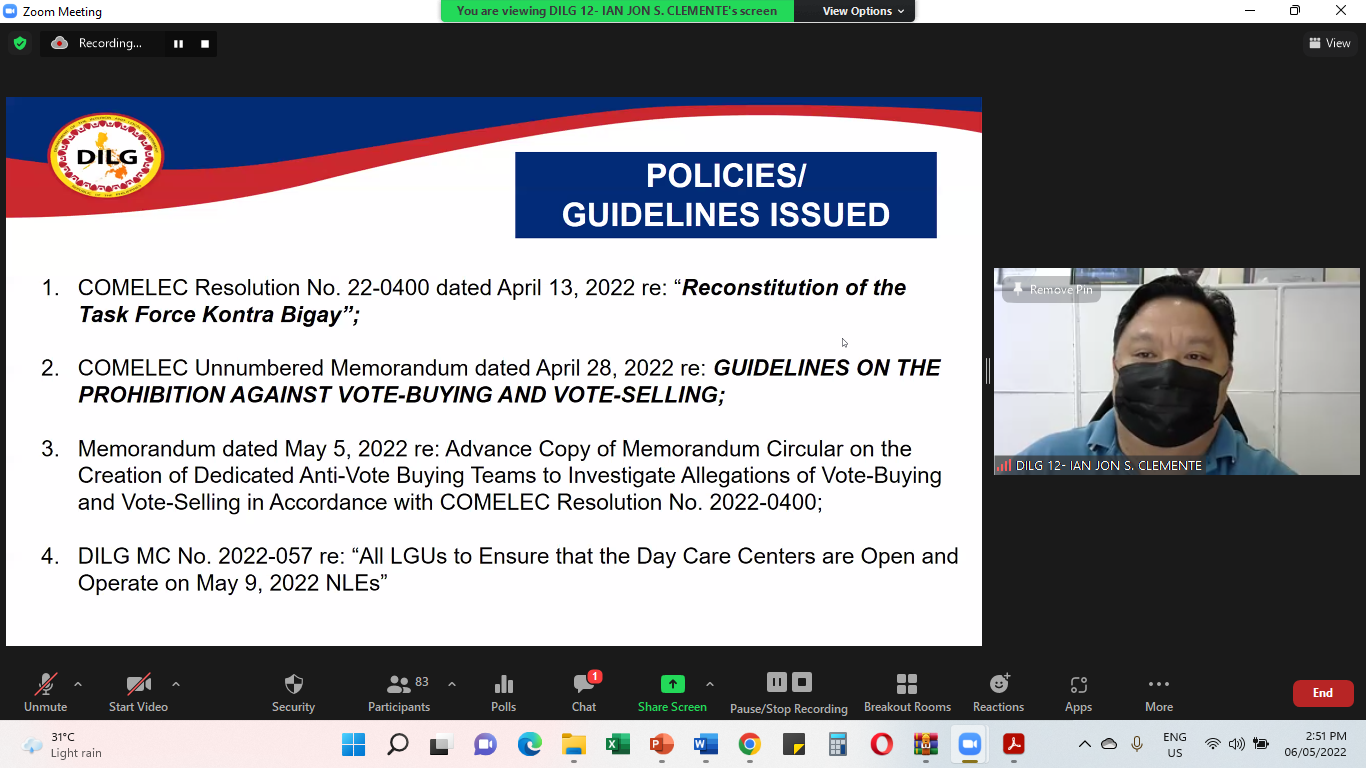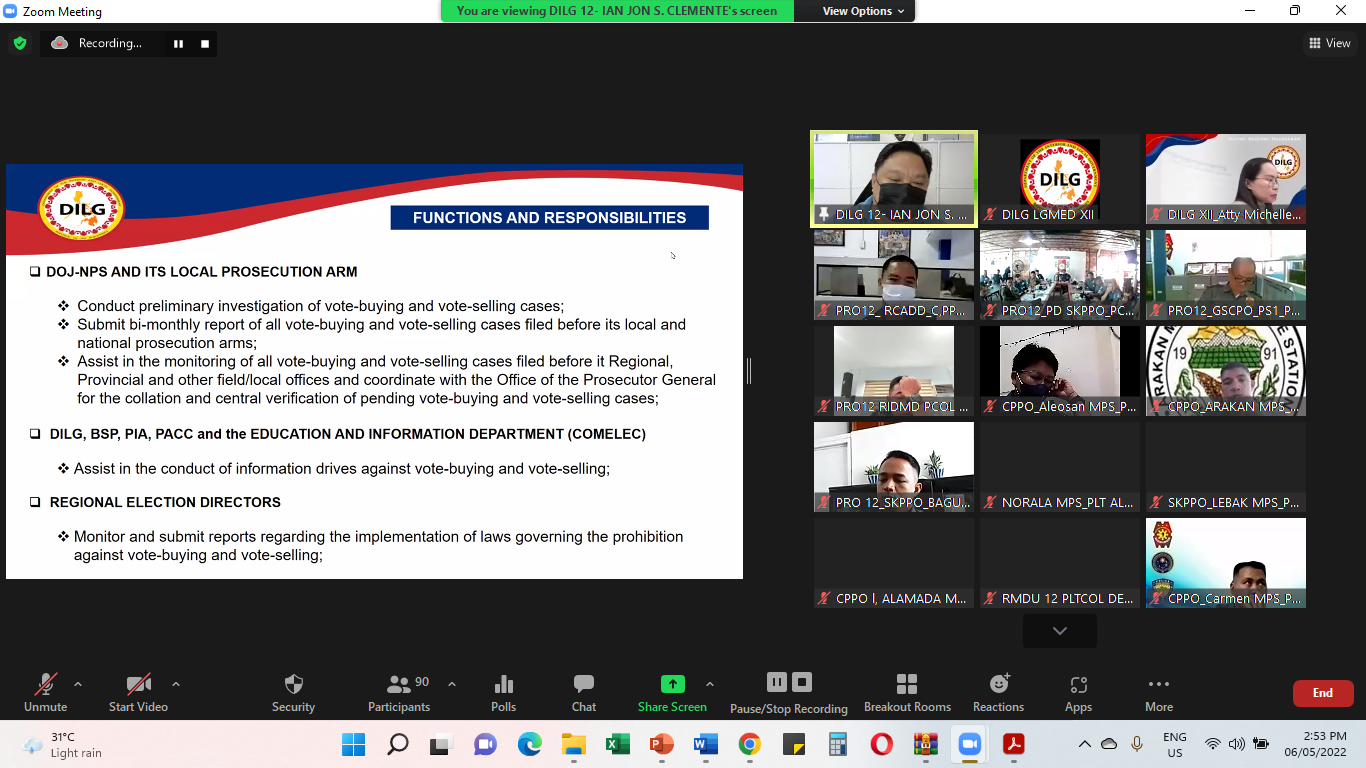 LOOK| In preparation for the National and Local Elections, the Department of the Interior and Local Government (DILG) XII conducted a Coordination Meeting attended by representatives from the Department of Health (DOH) and Integrated Provincial/City Health Office (iP/CHO), Police Regional and Provincial Offices, DILG Provincial and City Directors, and Municipal Local Government Operations Officers (MLGOOs).
Atty. Michelle Anne P. Viejo discussed the Memorandum Circular No. 2022-056 on COVID-Proofing the National and Local Elections. Atty. Viejo highlighted the major responsibilities of the LGUs:
Establishment one (1) Medical Help Desk with complete provision of necessary resources, essential medicines, and appropriate number of personnel;
All LGUs, down to the barangays, shall ensure the functionality of their respective COVID response teams and BHERTs;
Ensure the readiness of LGU-run hospitals and health centers in the provision of emergency medical response units should the need arise;
Moreover, Mr. Ian Jon S. Clemente presented the following issuances:
-Draft Memorandum Circular on the Creation of Dedicated Anti-Vote Buying Teams to Investigate Allegations of Vote-Buying and Vote-Selling by COMELEC Resolution No. 2022-0400 to ensure a fraud-free election. PNP Regional, Provincial Offices, City and Municipal Stations are hereby directed constitute dedicated PNP Anti-Vote Buying Teams in each congressional district in the country and shall provide Hotlines in all polling places.
- Memorandum Circular No. 2022-057 on All Local Government Units (LGUs) to ensure that the Day Care Centers are open and operate on May 9, 2022, National and Local Elections (NLEs). Pursuant to the said MC, all Local Chief Executives are enjoined to comply with the COMELEC directive by ensuring that their respective Day Care Centers are open and operational on May 9, 2022 and comply with the following requirements:
They shall be open during Election Day, from 6 AM up to 7 PM; and
The teachers/custodians shall strictly observe all the minimum health standards laid down by the IATF corresponding to the Alert Level as declared in their respective AORs to ensure their safety and that of the children, such as, but not limited to: (1) Well-Ventilated Day Care Centers (2) Cleanliness and Sanitation; (3) Temperature Checking; (4) Wearing of Face Mask; and (5) Maximum of Persons Allowed.
Furthermore, Among the agreements/recommendations during the meeting are the following:
-COMELEC reminds all PNP and LGUs to set-up their desks outside of the 50- meter radius from the polling places;
- The Medical Help Desk shall be established that is separate and distinct from the Medical Screening Team to be set-up by the COMELEC;
- After the symptomatic voters shall have voted, the usual protocols shall be followed;
- As a general rule, COMELEC shall have jurisdiction during an election unless the PNP are called upon by the COMELEC
COMELEC XII representative Atty. Eurika Jessa Castillon reminded the participants that no barangay and SK official shall be allowed within the 50 meter radius of the polling places except when voting.