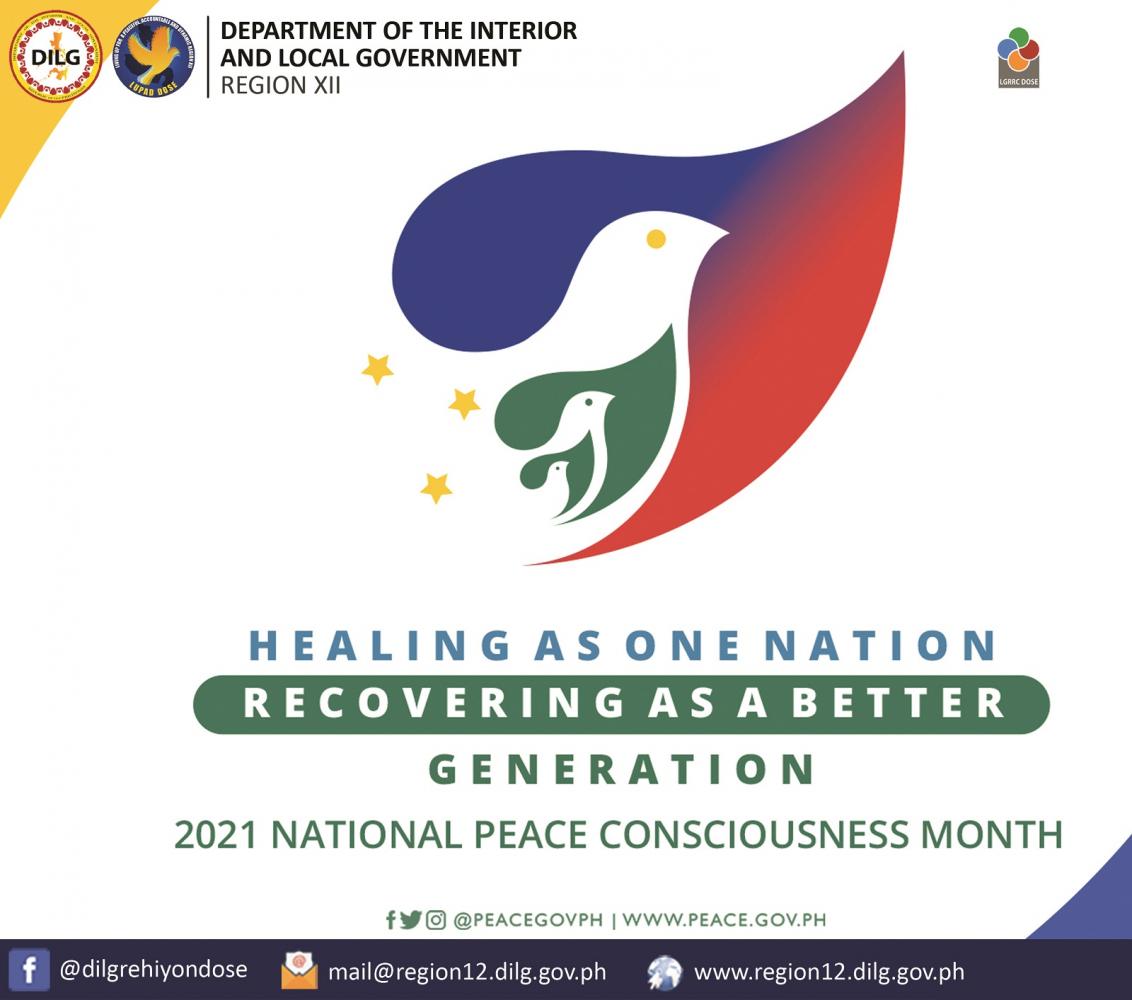 Proclamation No. 675, s. 2004, declared the month of September as the National Peace Consciousness Month.
In this year's celebration of the Peace Month, the DILG XII, under the leadership of RD Josephine Cabrido-Leysa, CESO III, joins the nation in celebrating the National Peace Consciousness Month 2021 with the theme, "Healing as One Nation, Recovering as a Better Generation."
Throughout this month, a variety of peace-building activities will be promoted by the Office of the Presidential Adviser on the Peace Process (OPAPP). Among the activities which have been lined up are transitional justice and reconciliation conference with Bangsamoro youth, peace research forums, and peace conversations with various marginalized sectors like women, youth, indigenous peoples and internally-displaced persons.
"Region XII considers 'peace' as one of our prime commodities. Our history as a Region is riddled by wars and conflicts and we witnessed the ravages of war, felt the grief of those who lost loved ones, overwhelmed by the sorrow for those who had to be displaced. It is my desire that the next generation will never see the grim experience we've had," Dir. Leysa explained. 
"We take our stand with the nation as it pushes for its healing. We want to recover as a better generation, for the sake of the young ones. We ask of you to express how you value peace even through the sharing of various materials and by being peace advocates, in your workplace or community, Dir. Leysa said."
 "Personally, I know that there is still a need to promote and instill a deeper consciousness and better understanding among the Filipino people on the issues related to peace and the peace process, positive peace, among others. Purposely, this will  help "strengthen and sustain institutional and popular support on the national peace efforts," Director Leysa elaborated further.