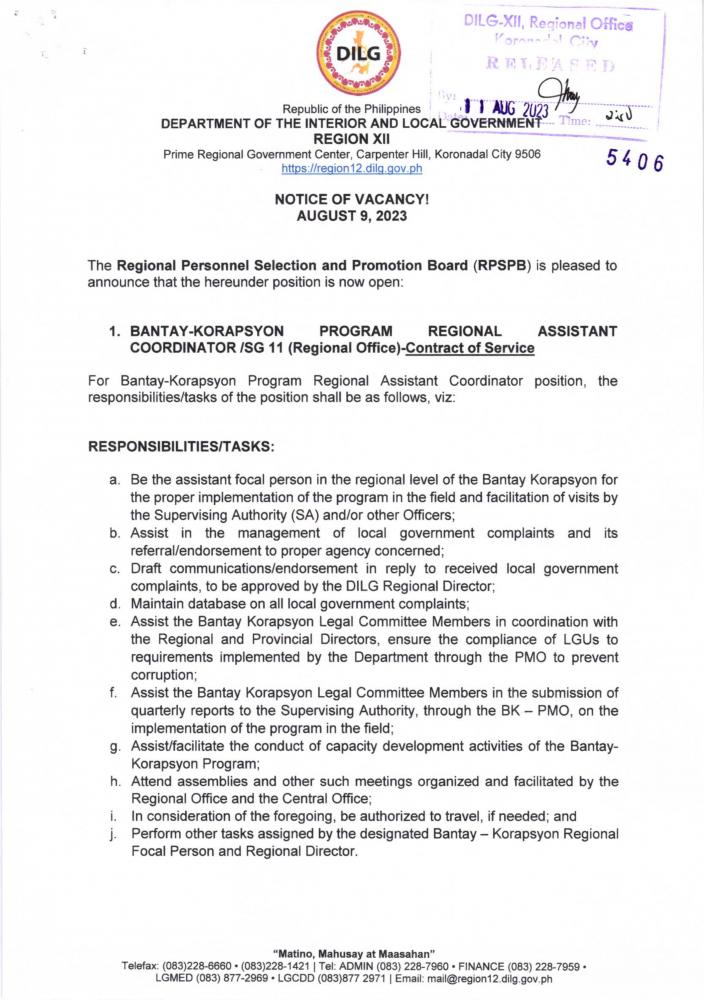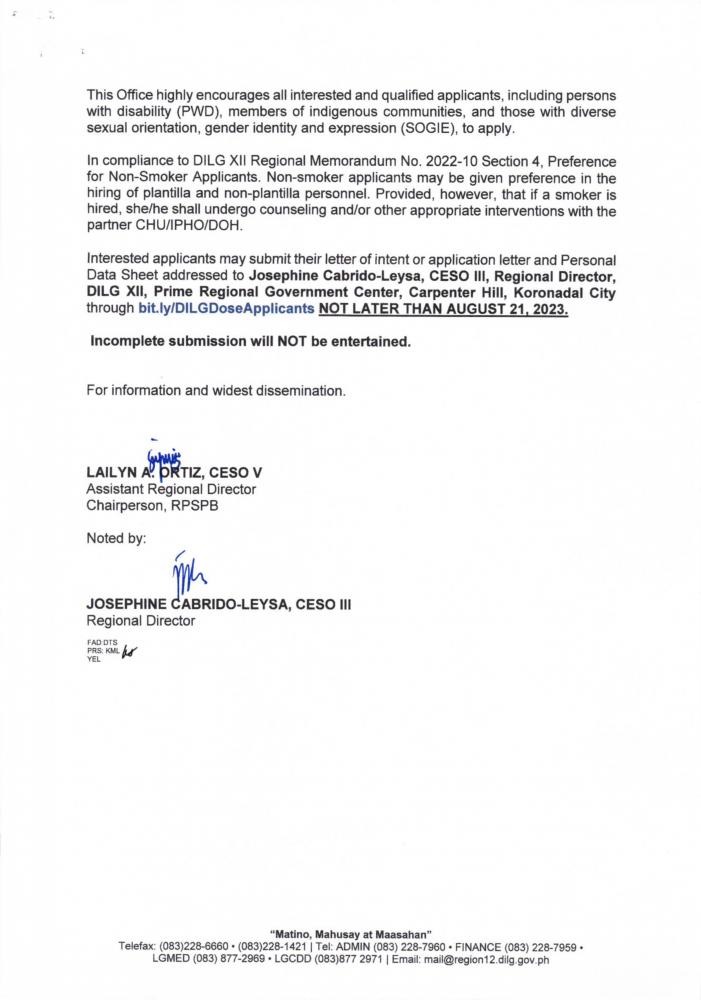 The Regional Personnel Selection and Promotion Board (RPSPB) is pleased to announce that the hereunder position is now open:
BANTAY-KORAPSYON PROGRAM REGIONAL ASSISTANT COORDINATOR /SG 11 (Regional Office) - Contract of Service
For Bantay - Korapsyon Program Regional Assistant Coordinator position, the responsibilities/tasks of the position shall be as follows, viz:
RESPONSIBILITIES/TASKS:
A. Be the assistant focal person in the regional level of the Bantay Korapsyon for the proper implementation of the program in the field and facilitation of visits by the Supervising Authority (SA) and/or other Officers;
B. Assist in the management of local government complaints and endorse/refer to proper agency concerned;
C. Draft communications/endorsement in reply to received local government complaints, to be approved by the DILG Regional Director;
D. Maintain database on all local government complaints;
E. Assist the Bantay Korapsyon Legal Committee Members in coordination with the Regional and Provincial Directors, ensure the compliance of LGUs to requirements implemented by the Department through the PMO to prevent corruption;
F. Assist the Bantay Korapsyon Legal Committee Members in the submission to the submission to Supervising Authority, through the BK – PMO, quarterly reports with documentation approved by the Regional Director on the implementation of the program in the field with highlights on major of an official for corruption, among other major accomplishments;
G. Assist/facilitate the conduct of capacity development activities of the Bantay - Korapsyon Program;
H. Attend assemblies and other such meetings organized and facilitated by the Regional Office and the Central Office;
I. In consideration of the foregoing, be authorized to travel, if needed; and
J. Perform other tasks assigned by the designated Bantay – Korapsyon Regional Focal Person and Regional Director.
This Office highly encourages all interested and qualified applicants, including persons with disability (PWD), members of indigenous communities, and those with diverse sexual orientation, gender identity and expression (SOGIE), to apply.
In compliance with DILG XII Regional Memorandum No. 2022-10 Section 4, Preference for Non-Smoker Applicants. Non-smoker applicants may be given preference in the hiring of plantilla and non-plantilla personnel. Provided, however, that if a smoker is hired, she/he shall undergo counseling and/or other appropriate interventions with the partner CHU/IPHO/DOH.
Interested applicants may submit their letter of intent or application letter and Personal Data Sheet addressed to Josephine Cabrido-Leysa, CESO III, Regional Director, DILG XII, Prime Regional Government Center, Carpenter Hill, Koronadal City through bit.ly/DILGDoseApplicants NOT LATER THAN AUGUST 21, 2023.
Incomplete submission will NOT be entertained.