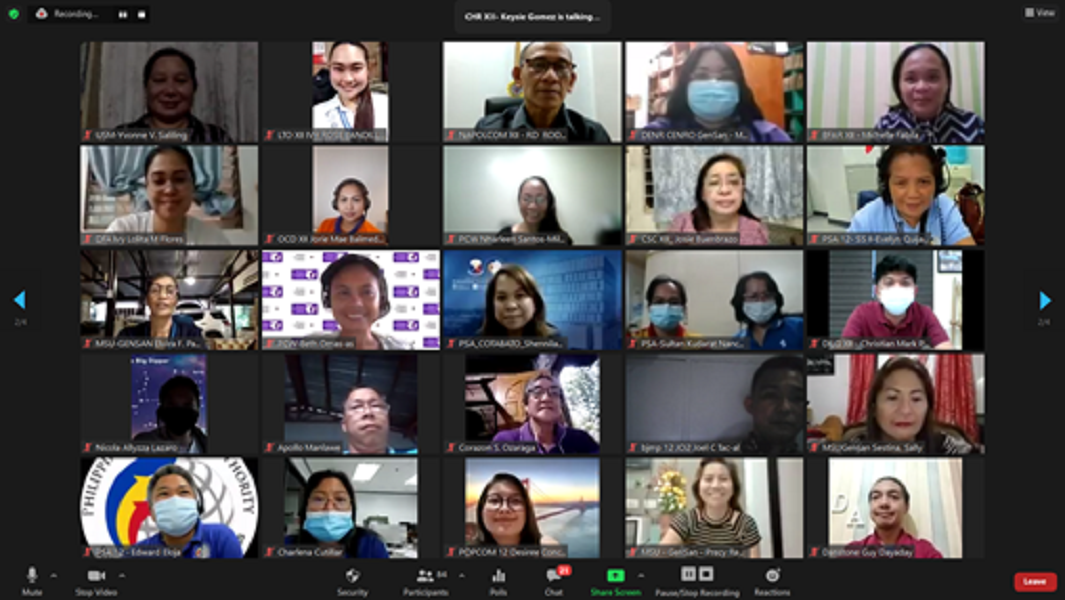 "Only he is truly a patriot who, whatever his post, high or low, tries to do the greatest possible good to his countrymen".
 Chairperson of Regional Gender and Development Committee (RGADC) XII/ DILG XII Regional Director Josephine Cabrido- Leysa, CESO III, has re-echoed this inspiring statement of sublime paralytic Apolinario Mabini in her opening message, in line with the recent 123rd-year celebration of Philippine Independence, at the onset of virtual "In-Depth Orientation on Gender Mainstreaming Evaluation Framework (GMEF)" on Thursday, June 17, 2021.
Participants numbering one hundred eighty-nine (189), composed of 163 women and 26 men who are government employees all experienced a sort of 'rekindling' about their role as primary- duty bearers of women's human rights, as enunciated in Republic Act No. 9710 or known as "Magna Carta of Women."
Throughout the course of the event, the three (3) GAD expert Resource Persons from Philippine Commission on Women (PCW) selflessly imparted their knowledge and expertise on GMEF as a self-assessment tool to effectively gauge the level of gender mainstreaming efforts of government offices, bureaus, institutions, or organizations according to (1) People; (2) Policy; (3) Enabling Mechanisms; and (4) Programs, Projects, and Activities.
In preparation for the Committee's "Search for Most Gender- Sensitive and Gender- Responsive Agency, Office, or Institution in Region XII" for CY 2023, the DILG XII, together with the Department of Public Works and Highways (DPWH), Bureau of Fire and Protection (BFP) and Commission on Human Rights (CHR) shared their respective GMEF results on their chosen entry point as additional guidance to the participants.
The activity had been fruitful, thanks to the able handling of Atty. Keysie M. Gomez, Legal Officer of Commission on Human Rights (CHR) XII who acted as the facilitator.
PCW Executive Director Maria Kristine Josefina G. Balmes expressed her heartfelt gratitude and appreciation as another GAD learning endeavor has been successfully concluded. She encouraged all attendees to use the GMEF tool towards achieving gender-responsive government instrumentalities in Region XII.