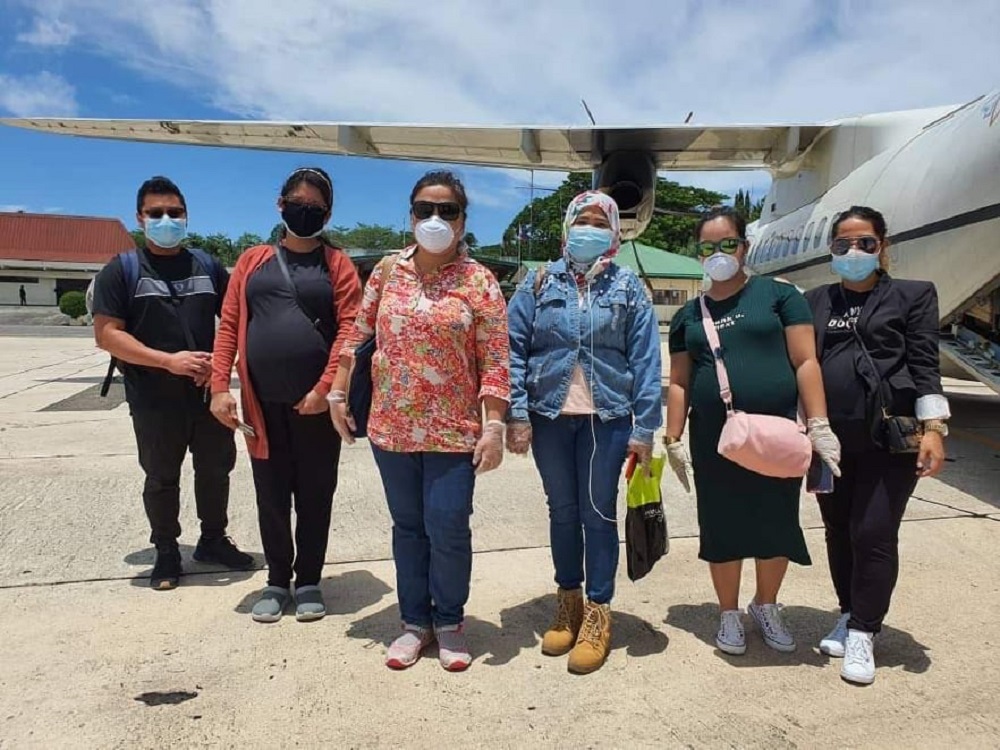 "WE have landed in Awang Airport!"
This was the update received by DILG XII RD Josephine Cabrido – Leysa, CESO III at around 10:57 AM on Wednesday April 22, 2020, relayed by one of the thankful passengers of the 'sweeper flight' from Cebu as the said official monitored, along with the OpCen people, the development of events. 
The flight was part of the repatriation operation meant to bring home OFWS and tourists (who are residents of Region XII) to their respective hometowns, as initiated by the DILG Director. There were more than 30 stranded OFWs in Cebu, mainly from Lapulapu City, when their flights to Region XII were cancelled upon the declaration of a lockdown relative to the Covid-19 emergency.
"All of these residents have gone through the mandatory 14-day quarantine upon their arrival and as the lockdown dragged on, they found themselves in a difficult situation, with most of them barely managing with their meals and other expenses," Director Leysa relates.
She continues, "While they might have something to spend, being OFWs and tourists, they have nowhere to buy from and nowhere to go since the community is under an enhanced community quarantine. They cannot travel anymore and it had been a frustrating experience for them." 
One of the passengers identified as Mrs. M, who hails from Koronadal City, is a 5-month pregnant OFW from the United Arab Emirates. She recounts that she was one of those who were caught in the lockdown implementation and her flight schedule from Cebu (her point of destination from abroad) to General Santos City was cancelled indefinitely.
Mrs. M managed for a few days as she was able to stay in a hotel. Soon, she made a decision to find a cheaper place to stay, like an inn or a guesthouse, as the expenses kept piling when the quarantine dragged on. Towards the end of her stay, prior to her flight on Wednesday, she was already staying in a cheaper boarding house. By this time, her funds have dried out and the hope of being able to leave Cebu started to go dim. She was in touch with all the other OFWs and tourists in her area and soon they made their predicament known to the DILG XII OpCen.
During that time, Dir. Leysa was working behind the scenes, trying to establish links with the Department of Tourism XII and the Overseas Workers' Welfare Administration (OWWA) on the schemes to assist these stranded residents. The Tourism department looked after the tourists and made sure that they were identified, listed and located while OWWA took care of the OFWs. The Office of Civil Defense, on the other hand, arranged for the flight schedule, which was based on the availability of the Air Force planes.
Director Leysa explains that the availability of seats is not guaranteed especially on this flight out of Cebu as the plane had to take in some passengers who were soldiers of the AFP en route to Cotabato.
"I hope there will be more flights, as we desire to bring our kasimanwa home. We will exert our best efforts. The Airforce have their schedules full, the budget of all agencies are so thinly stretched and the number of stranded people continue to rise as others are now reporting to the agencies concerned: OWWA, DOT, OCD, DILG. This is our situation right now," adds Director Leysa as she appeals for more understanding and patience. (To be continued)