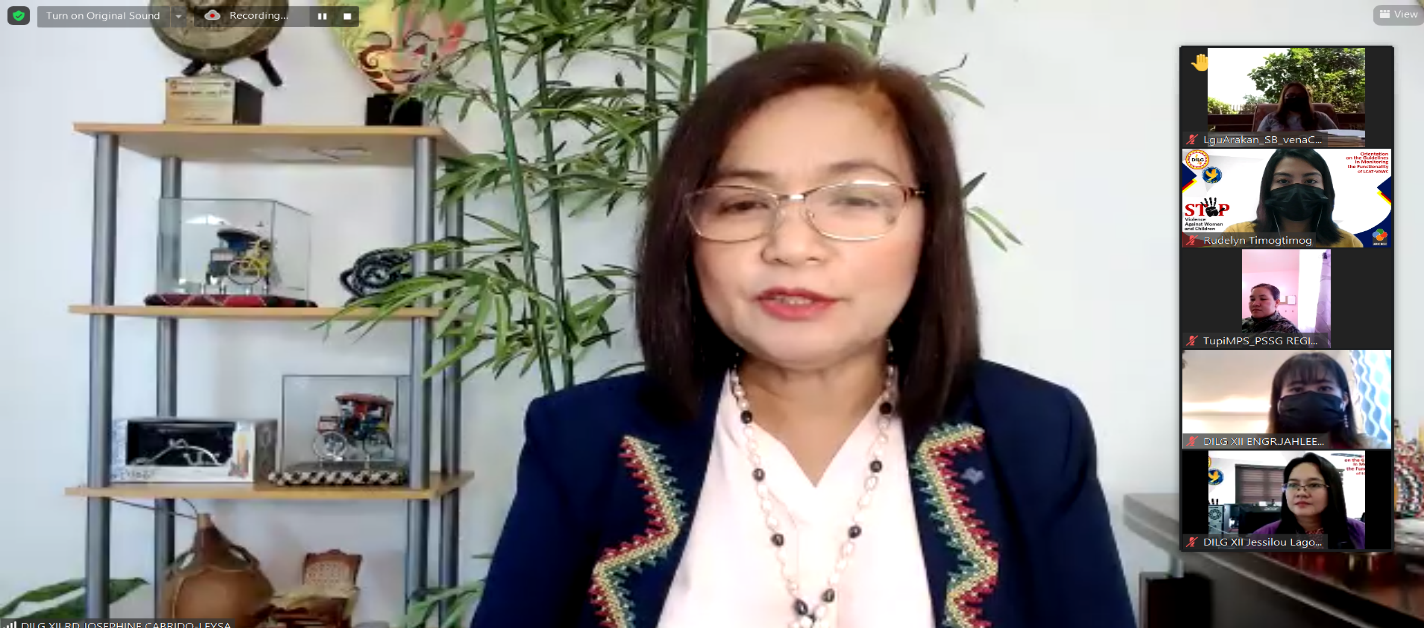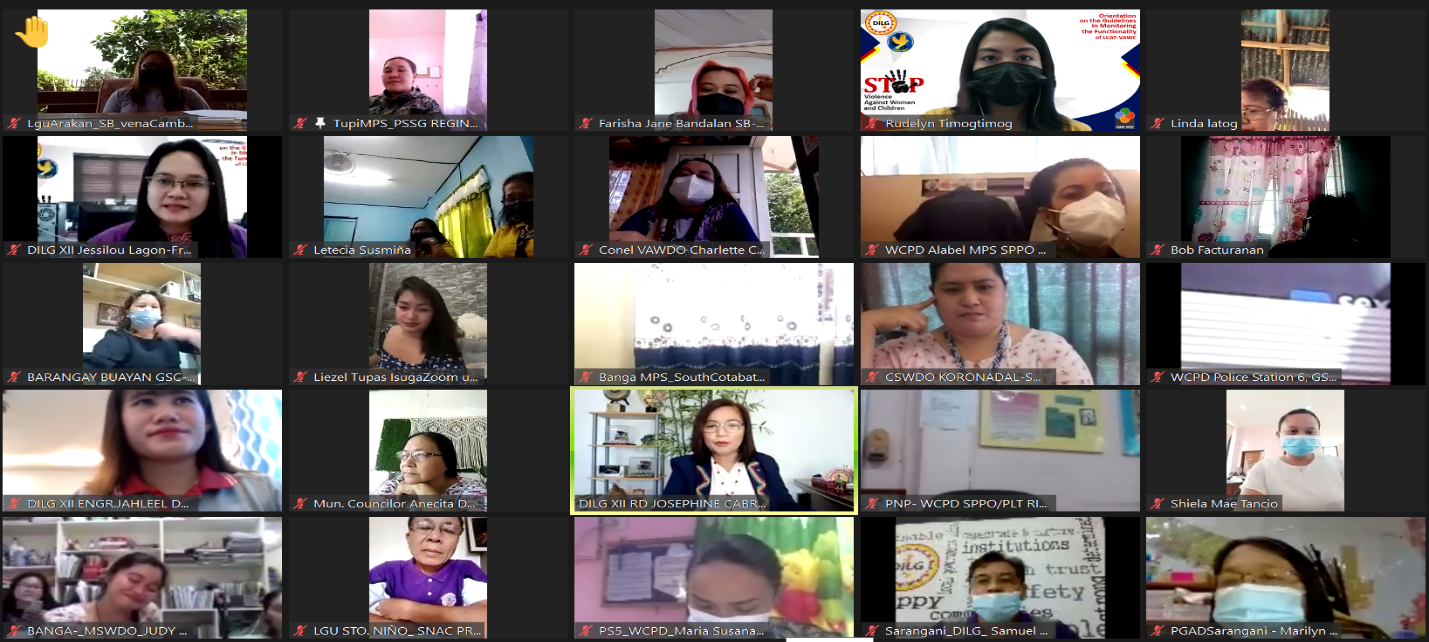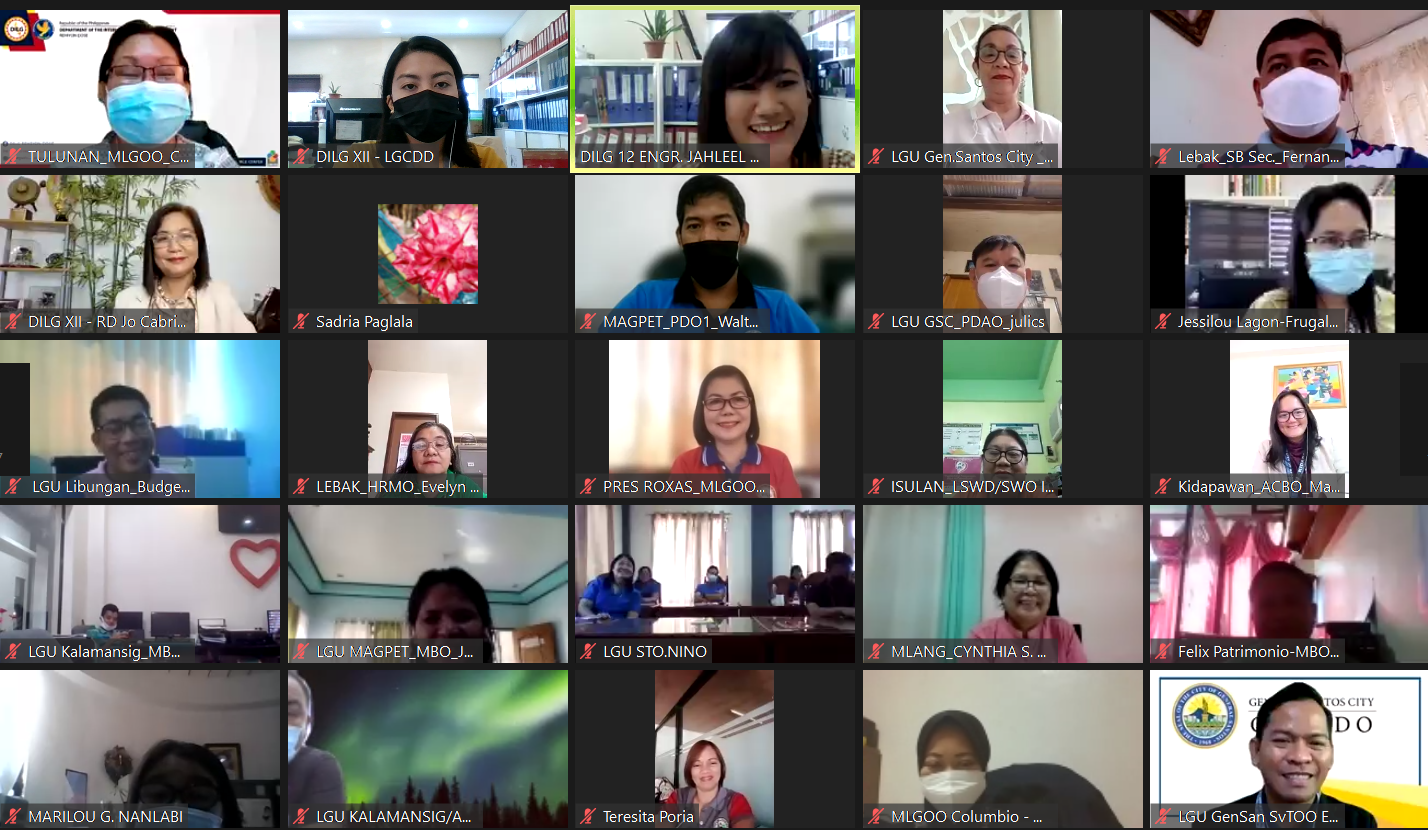 The Department of the Interior and Local Government (DILG) XII conducted virtual "Orientation on Local Committee on Anti-Trafficking and Violence and Women Children (LCAT- VAWC)" and "Training of Gender Sensitivity, Gender Analysis, and Gender Responsive LGUs (GeRL) Assessment Tool" on July 15 and 28, 2021, respectively. With two hundred eighty (280), 216 female and 63 male, and one hundred ninety nine (199), 153 female and 43 male, GAD Focal Point Systems (GFPS) members of LGUs participated each undertakings.
"Lockdowns should not allow us to become lax in securing the safety of women and children. The challenge now is to make sure that channels are open and are readily available to victims of domestic violence", said by Senator Riza Hontiveros as quoted by DILG XII Regional Director Josephine Cabrido- Leysa, CESO III, in her Message during the earlier activity. She underscored the importance of LCAT- VAWC in monitoring and reporting of trafficked persons and VAWC cases amidst the pandemic in view of the promotion of women's fundamental rights enunciated in the Magna Carta of Women.
A sole Resource Person named Atty. Eric Paul M. Peralta of UP Los Baños Human Resource Development Office Director, elaborated Republic Act 9208 (Anti- Trafficking in Persons Act) and RA 9262 (Violence against Women and Children) as legal bases. He elucidated the DILG-DOJ- DSWD Joint MC 2010-01 and DILG MC 2020-006 that provides guidelines of the assessment and its related indicators obtained various questions. The functionality assessment of LCAT-VAWC was first time to be conducted this year in compliance with DILG Memorandum Circular (MC) No. 2020-006. A monitoring and evaluation program which will run from May up to September 2021 covering 2019 and 2020 LGU performances.
 On the later endeavor, Mr. Orly Maraingan, PCW National GAD Resource Pool (NGRP) Batch 1, discussed about "Gender Sensitivity" that clarified the disparity of terms between sex and gender including their respective roles in the community.  The same Resource Person, Atty. Peralta, academically talked about "Gender Analysis" leading to the identification of gender issues as relevant to GAD planning. Finally, Ms. Jessilou Lagon- Frugalidad, GAD Focal of DILG XII, explored the six (6) forms of Gender Responsive LGU (GeRL) assessment tool which garnered several questions from the participants.
Eventually, these two (2) GAD activities ended fruitfully. It was clearly established that Gender has intertwining relationship with the concept of development. With goal of Gender Equality and Women Empowerment (GEWE), a gender- responsive and inclusive development will surely be attained.