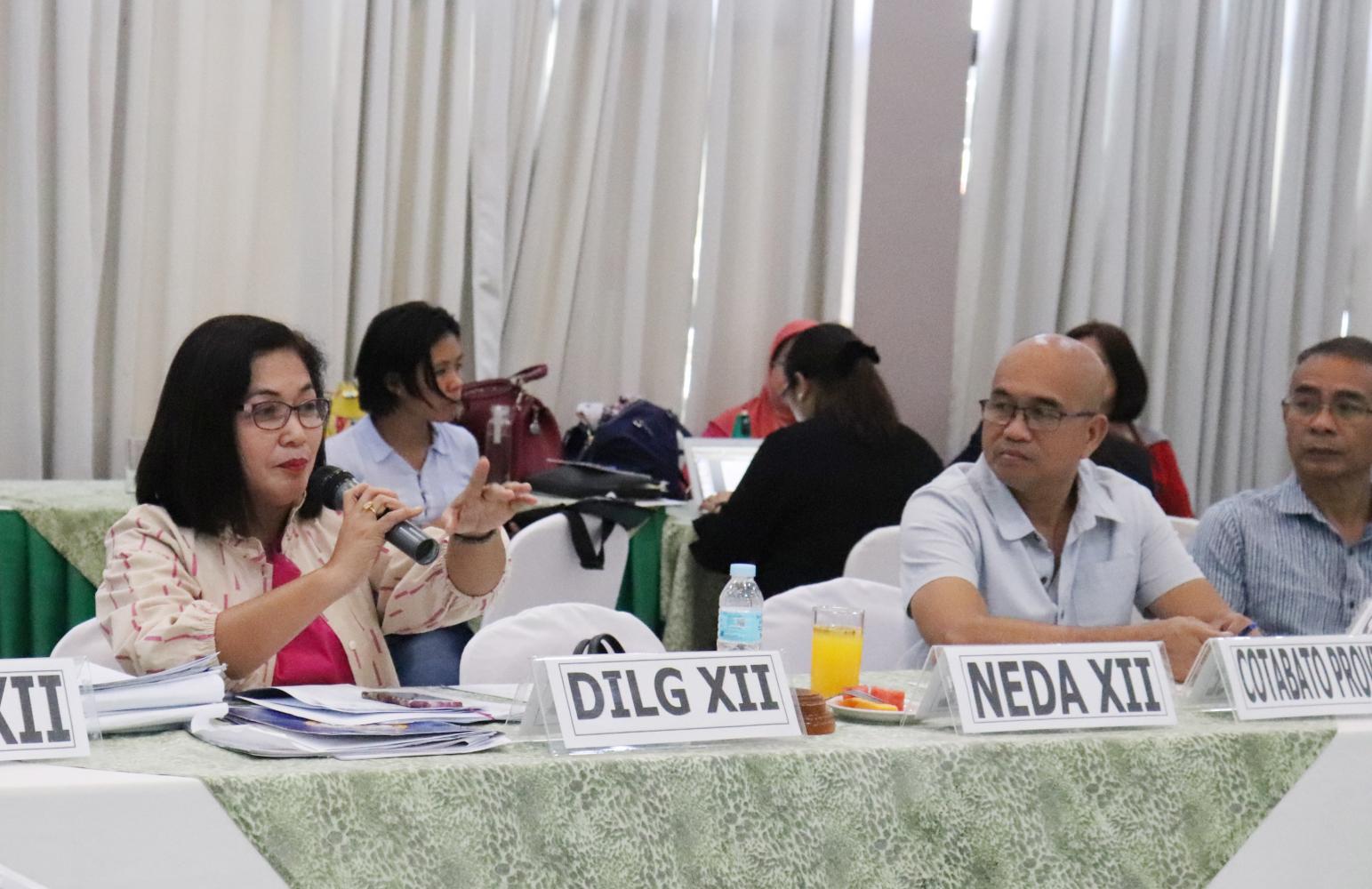 The DILG XII, under the leadership of Regional Director Josephine Cabrido-Leysa, CESO V, spearheaded the conduct of the Cluster 1 RTF-ELCAC SOCCSKSARGEN Meeting last July 19, 2019 at Villa Amor Hotel, City of Koronadal, SouthCotabato.
The meeting was presided by RD Leysa, being the Chairperson of Cluster 1 and it was attended by the Regional Directors of DBM XII, DPWH XII, DOT XII, POPCOM XII and BLGF XII. Present also during the meeting are the key officials of the different member agencies from DILG, BLGF XII, NCIP XII, DSWD, DEPED XII, DOH-CHD XII, CHED XII, DOLE XII, DAR XII, DA XII, TESDAXII , DTI XII , PCA, NIA XII, DENR XII, BFAR XII, LTO XII, DOE, MINDA, NEDAXII,DENR-MGB, DOT XII, DICT XII and representatives of PLGUs of South Cotabato, Sultan Kudarat, Sarangani and Cotabato Province.
Among the highlights of the meeting is the Workshop on the formulation of the Implementation Plan of the agencies under Cluster 1 which is composed of four (4) Line of Efforts (LOEs) namely: 1) Local Government Empowerment; 2) Basic Services; 3) Livelihood and Poverty Alleviation; and 4) Infrastructure and Resource Management.   
During the meeting, RD Leysa stressed that the present administration is very focused, committed and determined to end local communist armed conflict and insurgency problems by 2022 and in order to achieve this, there is a need for the government to institutionalized a "Whole-of Nation" approach.  Bringing government services closer to the people particularly to the ELCAC priority areas or barangays.
RD Akmad J. Usman, CESO V, Regional Director of DBM XII also expressed full support to the ELCAC programs and projects of the agencies. He also assure the RTF that DBM is fully committed to this Program as embodied in their Secretary's directive.  He also encouraged the member agencies present during the meeting to re-assess and re-focus their PPAs on the ELCAC priority areas. DBM XII also welcomes any project proposals of agencies with regards to ELCAC implementation for CY 2019 up to CY 2021.
Before the meeting ended, ARD Lailyn A. Ortiz, CESO V presented the Ways Forward for the Cluster 1.  Amongst the agreements and initiatives to be done were: a) Submission of the Final Menu of Services and IMPLANs by the agencies for CY 2019-2022 on July 26, 2019; BLGUs (ELCAC Priority Barangays) to revisit/update their BDPs with technical support from the Province; and c) Presentation of the Consolidated Output during the August 12-14, 2019 Workshop of the RTF-ELCAC SOCCSKSARGEN.
She also recognized and appreciated the active support and inputs of NEDA XII personnel during the meeting and the workshop proper.