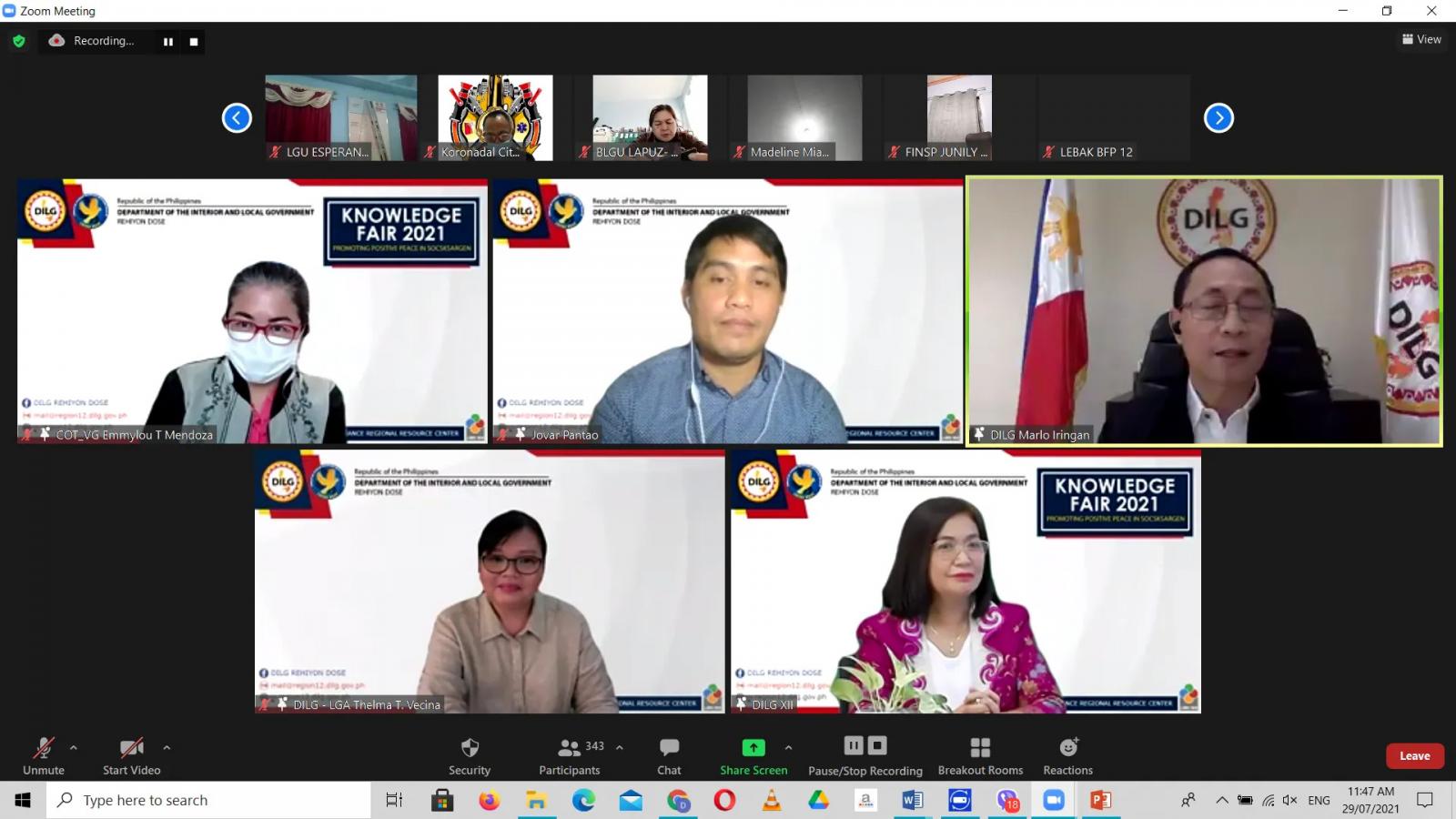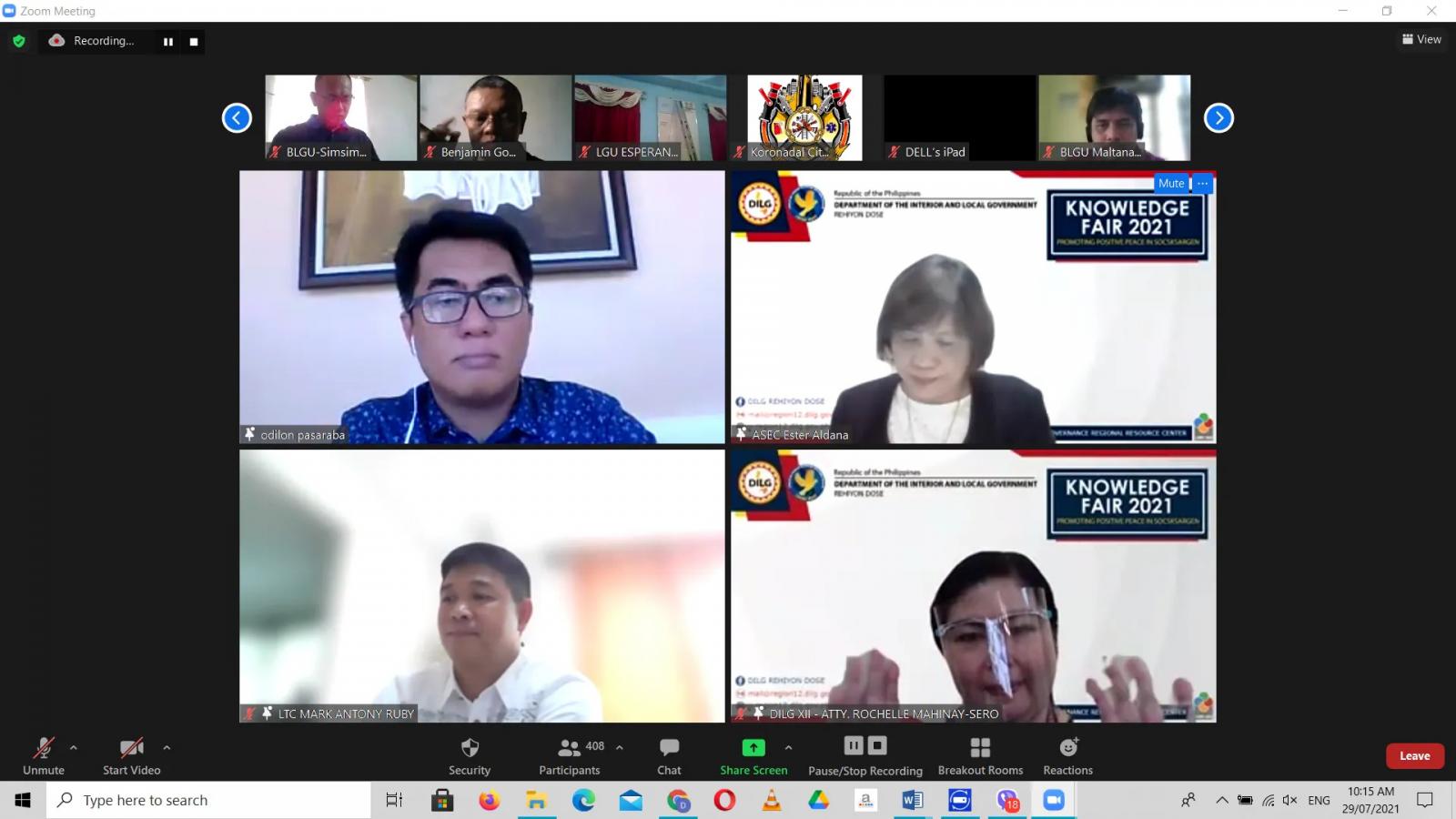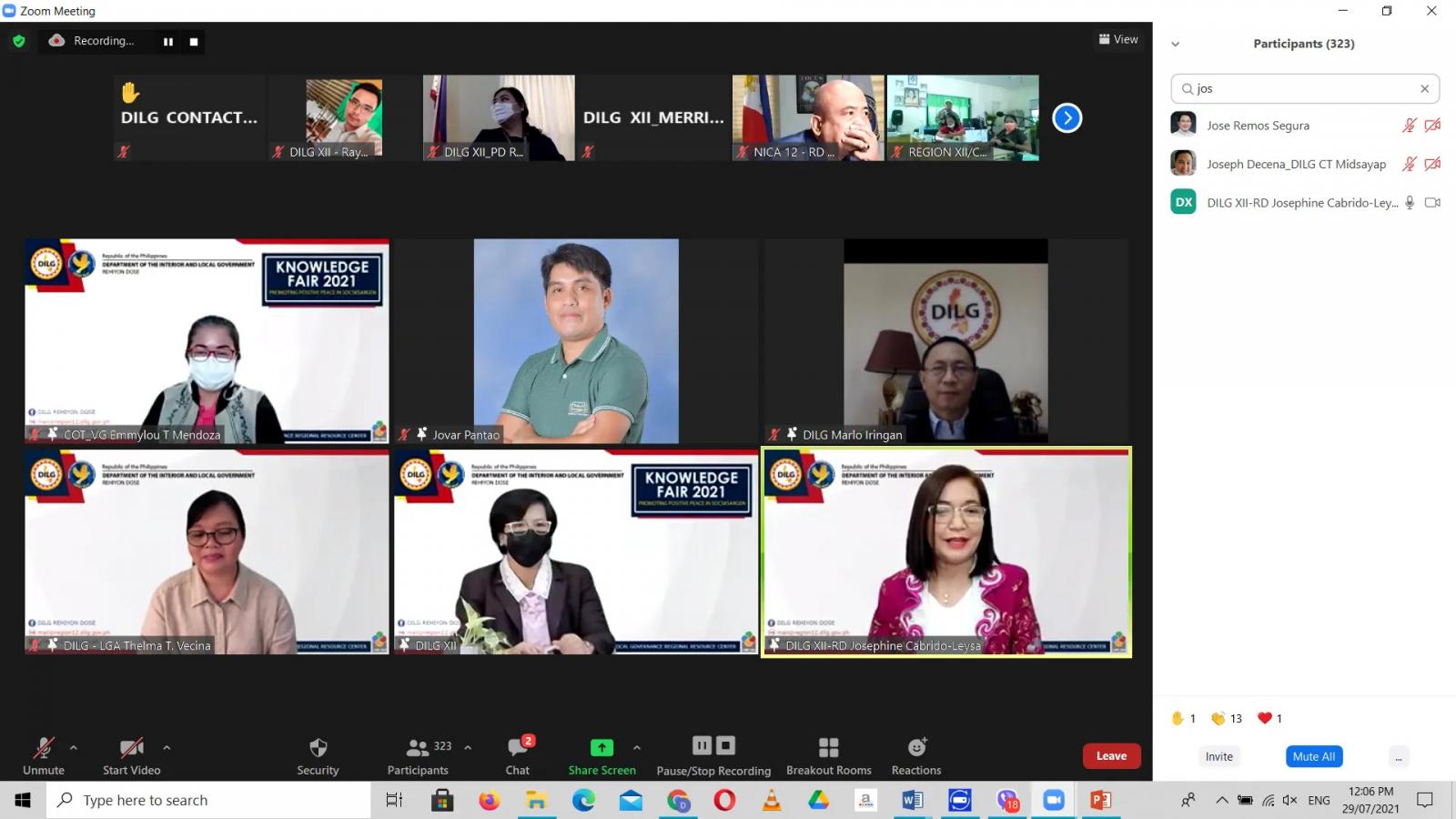 DILG XII Regional Director Josephine Cabrido-Leysa, CESO III expressed her gratitude and appreciation for the successful conduct of the much-awaited Knowledge Fair 2021 which featured four (4) peace-related academic papers, the launching of DILG Dose TV on Youtube and the signing of the Memorandum of Understanding for the Local Governance Consortium for Socsksargen on July 29.
In her opening message, RD Leysa said she considered the event as one of the milestones in the Regional Office's "pursuit for positive peace and productive partnership with CSO/LRI partners."
As a resident of Region XII, RD Leysa hinted about the armed confrontations and wars she has witnessed in the past and that 'she wished she will never be able to experience them anymore.'
The academic papers which were focused on Thursday tackled matters related to peace and the four presenters include Atty. Rochelle D. Mahinay-Sero, the Provincial Director of DILG-South Cotabato, Col. Mark Anthony U. Ruby, Executive Assistant for Operations and Security, DILG – Office of the Secretary, Prof. Jovar Pantao, Ph.D, Acting Director, Institute of Peace and Development in Mindanao, Mindanao State University – General Santos City and Hon. Emmylou "Lala" Taliño-Mendoza, Vice Governor of the Province of Cotabato.
PD Sero discussed 'Positive Peace and Conflict Transformation' and Col. Ruby provided an overview of his research paper entitled "An Assessment of the AFP's Humanitarian Operations of the AFP's Joint Task Group during Large-scale Military Crises: The Case of the Marawi Siege"
For these first set of particular topic, the two panel of reactors were Asec. Odilon L. Pasaraba, CESO III, Assistant Secretary for Special Concerns Local Government Sector of the DILG and Asec. Ester A. Aldana, CESO II, DILG's Assistant Secretary for Administration, Finance and Comptrollership.
Another presenter is from the academe: Prof. Jovar Pantao, Ph.D who discussed his paper entitled "Education for Preventing and Transforming Violent Extremism in the Context of Local Communities of Mindanao, Philippines. Prof. Pantao is the Acting Director of Institute of Peace and Development in Mindanao at the Mindanao State University – General Santos City.
Meanwhile, Vice Governor Emmylou "Lala" Taliño-Mendoza of the Province of Cotabato elaborated on her paper "Assessment of Amicable Settlement as Alternative Dispute Resolution Mechanism for Resolving Rido Cases in the Province of Cotabato," citing her real-life experience as a resident of Cotabato.
Rd Leysa highlighted that one of the Department's thrust is "to be at the forefront of peace initiatives" and that she, along with the rest of DILG XII, all want to relay the message that "we are all-out for peace and we want our far-flung communities to be in a lockstep with the rest as they move towards progress."
The Knowledge Fair is a milestone for DILG XII, which was further made special due to the launching of its own DILG DOSE TV on Youtube and becoming the window to witness the signing of the memorandum of Understanding between DILG's partner learning institutions for the Region's Local Governance Consortium.
The Sultan Kudarat State University (SKSU), University of Southern Mindanao-Kabacan (USM-Kabacan), Mindanao State University (MSU-Gensan) and Notre Dame of Marbel University (NDMU) has become part of the newly formed consortium that will serve as the training ground for local officials in the field of good governance.
"I thank everyone who made this event a success: all our presenters, panel of reactors, the DILG XII Execom and ManCom members who made this activity a real success. The tally for the event shows that we reached 1200 audience but real-time feedback reveals that some viewers watch in groups of 7 or more! It simply means that we served quite a huge crowd for the Knowledge Fair. We believe that the topics will be beneficial for all, as individuals and as residents of Region XII. After all, we all consider peace as a prime commodity here." RD Leysa said.