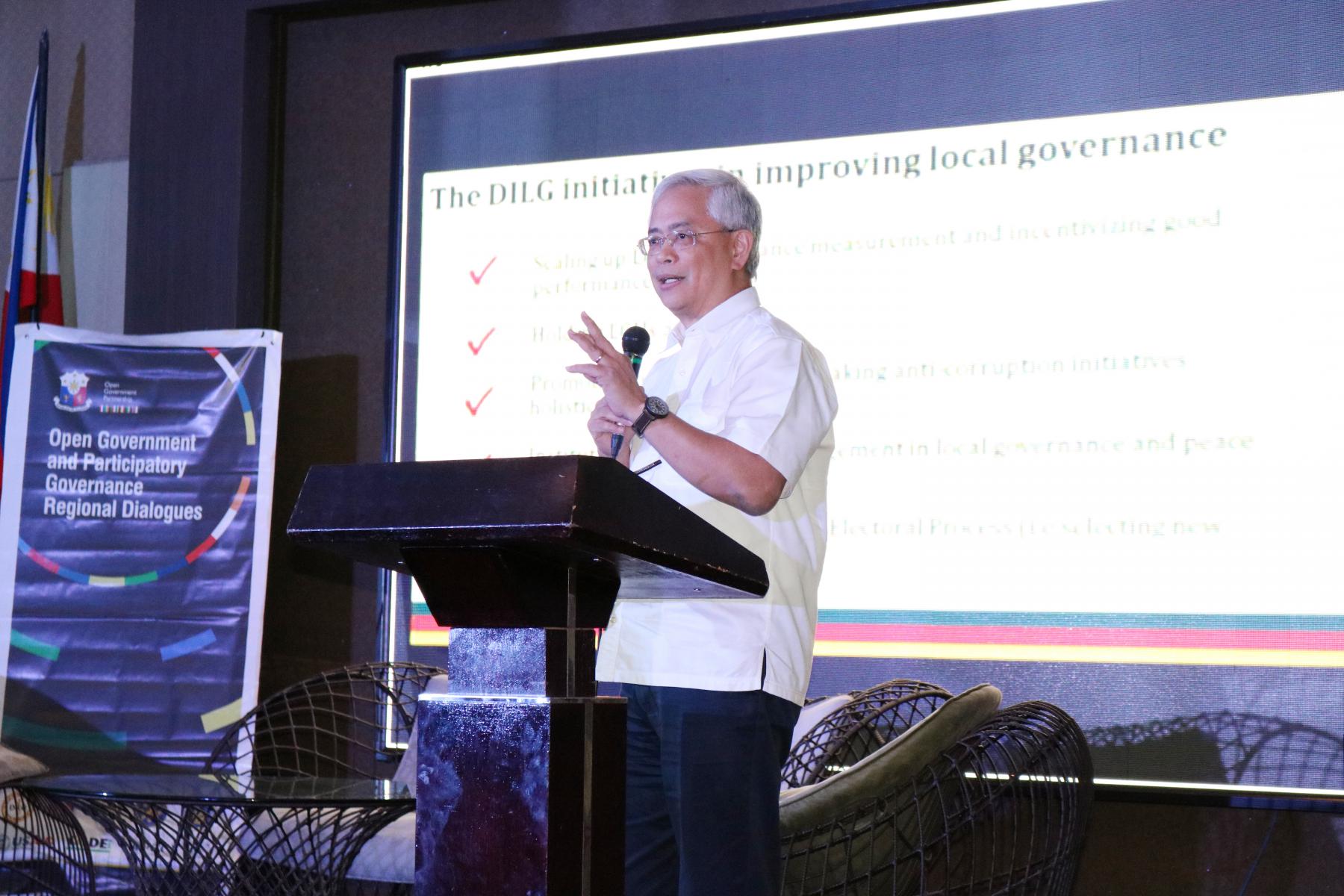 The Philippines is one of the founding members of the Open Government Partnership, a unique international initiative aimed at securing concrete commitments from government to promote transparency, increase civic participation, fight corruption, and harness new technologies that strengthen governance.
On May 2016, the Participatory Governance Cluster (PGC) was created by virtue of Executive Order No. 24.  The Cluster is co-chaired by the Department of Budget and Management (DBM) and the Department of the Interior and Local Government (DILG).
Regional dialogues with local stakeholders (local government units, local CSOs, academe, business sectors) are being conducted and funded by the USAID-Facilitating Public Investment (FPI) Project, DILG and DBM - the OGP government secretariat.
The Open Government and Participatory Governance Regional Dialogue (Mindanao Cluster 2) was successfully conducted on February 5-7, 2018 at Greenleaf Hotel, General Santos City. 
The activity was graced by the Cabinet Secretary, Hon. Leoncio Evasco, Secretary Benjamin Diokno of DBM and Undersecretary Austere A. Panadero, CESO I of DILG, together with  Undersecretaries and Assistant Secretaries of DBM, DOF and PCOO.  Also present were the Provincial Governors of the Provinces of Cotabato, South Cotabato, Sultan Kudarat, Sarangani, Davao Oriental and Davao del Sur, the City Mayor of General Santos City and selected City/Municipal Mayors of Regions XI, XII, XIII and ARMM.
A total of 287 participants representing the public sector, academe, business sectors, civil society organizations, local officials and media actively participated in the said 3-day activities.
The successful conduct of the activity is attributed to the unwavering support of the OGP principals and partners namely: DILG, DBM, OCS, DAI, USAID-FPI, DOF, CODE-NGO, PCCI, Galing Pook, NAPC and CCAGG and the untiring efforts of the men and women of DILG XII through the leadership of DILG Regional Director Reynaldo M. Bungubung, CESO IV.