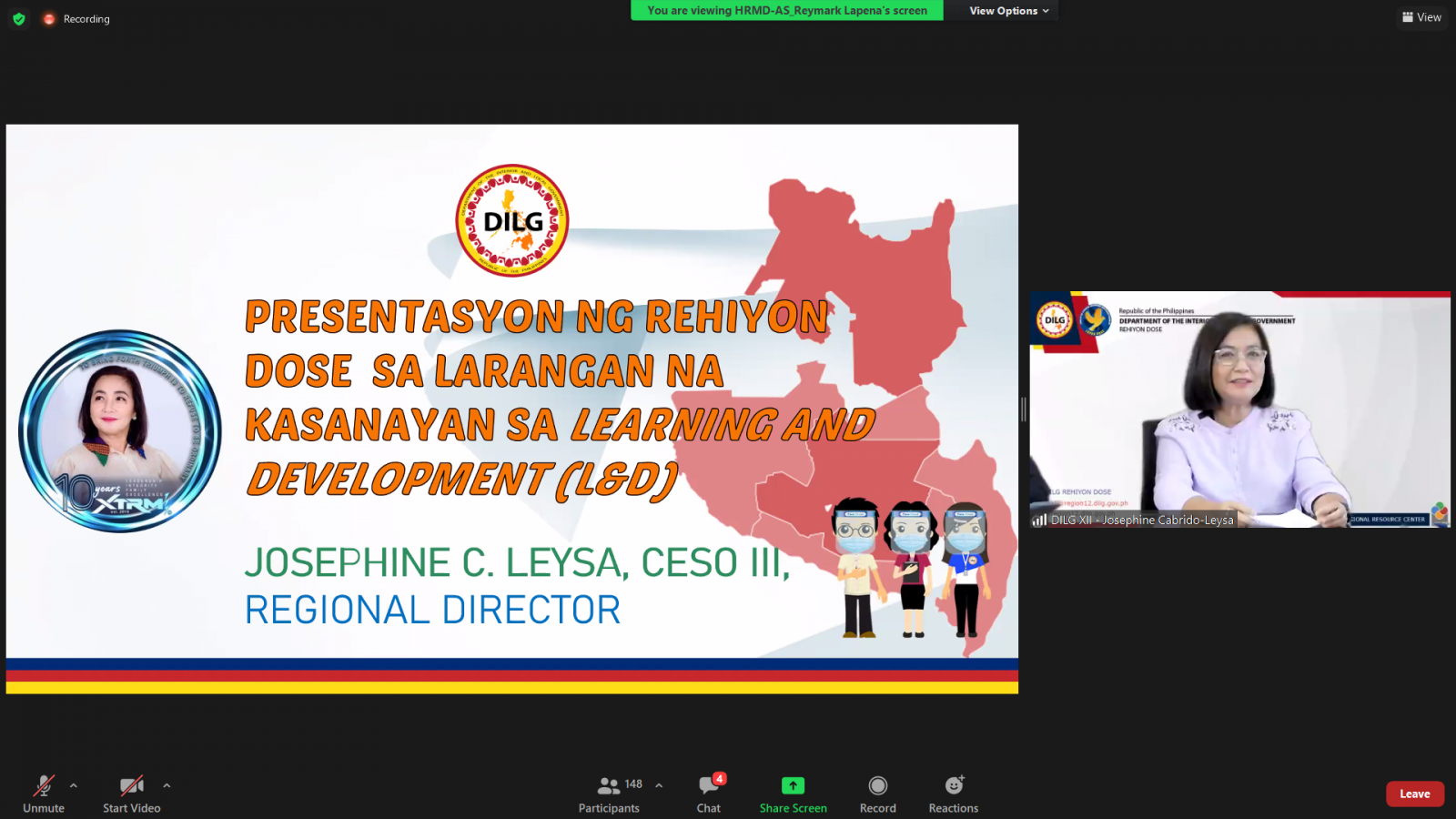 In line with the celebration of the 121st anniversary  of the Civil Service Month, the Human Resource Management Division (HRMD) -DILG launched the 'HR Online Summit' via Zoom platform which featured the four (4) regions with noteworthy best practices relative to the four core  human resource management systems. The four (4) core HRM Systems consists of: (1) recruitment, selection, and placement; (2) learning and development; (3) performance management; and, (4) rewards and recognition.
Region XII outlined their best practices in Learning and Development (L and D), with no less than RD Josephine Cabrido-Leysa, CESO III, doing the presentation. DILG XII has already been conferred with the PRIME-HRM Bronze Award by the Civil Service Commission XII on March 2020, by virtue of Resolution No. 2000938 last October 25, 2020.
DILG XII, as a Bronze Awardee, has been granted with privileges, including the authority to approve appointments, subject to post audit; exemption from Section 96 of the 2017 Omnibus Rules on Appointments and Other Human Resource Actions (ORAOHRA), as amended; review of the 50 percent of Department-issued appointments by CSC Field Offices; and announcements of the Department's programs or projects through the CSC website.
The PRIME-HRM, or Program to Institutionalize Meritocracy and Excellence in Human Resource Management, is a program of the CSC that aims to enhance the skills, systems, and competencies of government agencies and their personnel for HR excellence. The award is given by the CSC after an agency passes the four core HRM systems – recruitment, selection and placement; performance management; learning and development; and rewards and recognition. It also served as PRIME-HRM's maturity indicators as stated in the CSC Resolution signed last October 21, 2016.
Consistent with her previous pronouncements, RD Leysa pinpointed that she has always believed that human resources must be given attention" so to achieve the Office's potential.  For now, the Director says she wants the Regional Office to move  a notch higher, geared towards PRIME HRM Silver Award.
In her presentation, RD Leysa enumerated the Region's L&D initiatives which cover the following: Improvement on professionalism of personnel, development of personnel's capacity through development sessions, training workshops, retooling of administrative and technical personnel and the revitalized orientation of newly-hired employees
Looking ahead, RD Leysa added, "We are preparing for the conduct of online competency assessment in preparation for the updating of our HRD Plan, revisit our existing policies and formulate new policies, continue to observe the LGRRC approach in all L&D activities, strengthen our HR unit, conduct regular assessment for improvement and development and sustain the best practices."