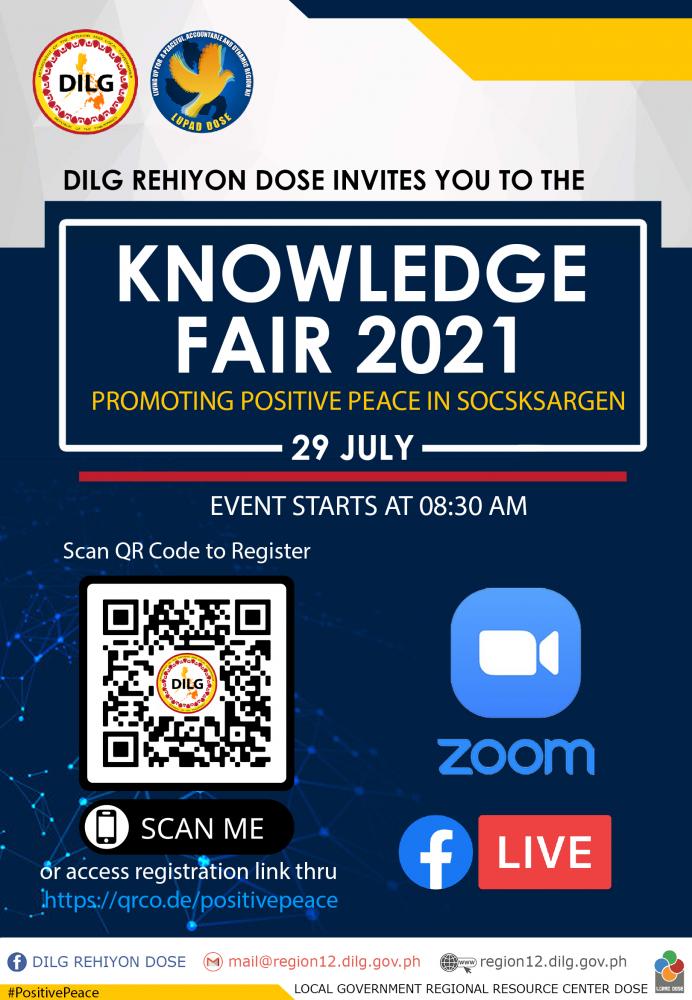 DILG XII goes full swing in its preparations for the much-anticipated Knowledge Fair on July 29 which will also feature the ceremonial signing of Local Governance Consortium in SOCSKSARGEN and the launching of the DILG XII's own Youtube Channel.
In one of the regular updating and briefing sessions, RD Josephine Cabrido-Leysa, CESO III said she 'looks forward to the holding of this event', as one of the big events planned out by the Regional Office. "We are pushing for 'positive peace' in the Region and through this Fair, we will be able to feature some materials which are relevant, timely and appropriate with our campaign," the Director explained.
Part of the Knowledge Fair will give time for four (4) academic papers which tackle the essentials in attaining positive peace in Region XII. Among the invited presentors are DILG South Cotabato Provincial Director Atty. Rochelle Mahinay-Sero who will discuss Positive Peace and Conflict Transformation, as applied in her area of assignment.
Another valuable material will be tackled by Lt. Col. Mark Antony Ruby (PA), Executive Assistant for Operations and Security at the Office of the Secretary, DILG, entitled "An Assessment of the AFP's Humanitarian Operations of the AFP's Joint Task Group During Large-scale Military Crises: The Case of the Marawi Siege." The paper had been adjudged as the Best Thesis in Lt. Col. Ruby's Master in Crisis and Disaster Risk Management (MCDRM) at the Philippine Public Safety College (PPSC).
Director Leysa revealed that she was able to gather together a powerful team to compose the four Panel of Reactors which include the following:
USEC. MARLO L. IRINGAN, CESO III, Undersecretary for Local Government, DILG
DIR. THELMA T. VECINA, CESO IV, Executive Director, Local Government Academy (LGA),
ASEC. ESTER A. ALDANA, CESO II, Assistant Secretary for Administration, Finance, and Comptrollership, DILG Central Office
ASEC. ODILON L. PASARABA, CESO III, Assistant Secretary for Special Concerns, Local Government Sector, DILG Central Office
Usec. Iringan and Director Vecina are the reactors to the papers to be presented by two Mindanaoans, namely Vice Governor Emmylou "Lala" Talino-Mendoza, who will discuss the "Assessment of Amicable Settlement as Alternative Dispute Resolution Mechanism for Resolving Rido Cases in the Province of Cotabato" and  PROF. JOVAR PANTAO, Ph.D, Acting Director, Institute of Peace and Development in Mindanao, Mindanao State University – General Santos City on the material entitled "Education for Preventing and Transforming Violent Extremism in the Context of Local Communities of Mindanao, Philippines"           
"As you can see, we have a set of highly valuable materials to be presented on that day, with highly qualified and respected panelists which we hope could really highlight the relevance, substance and timeliness of such materials, as they apply to our setting here in Region XII," Dir. Leysa explained further.
As an added bonus, Dir. Leysa also announced that CHANCELLOR RICARDO F. DE LEON (Ret. Gen), University President, Philippine Public Safety College (PPSC) will also be a part of the program as he delivers his message and synthesis.
DILG XII has invited LGU officials, DILG officers, other NGAs, PNP and the AFP, members of the academe, partners in the Multi-Stakeholders Advisory Council (MSAC), LRIs and other partner CSOs to join the virtual session on the said date.