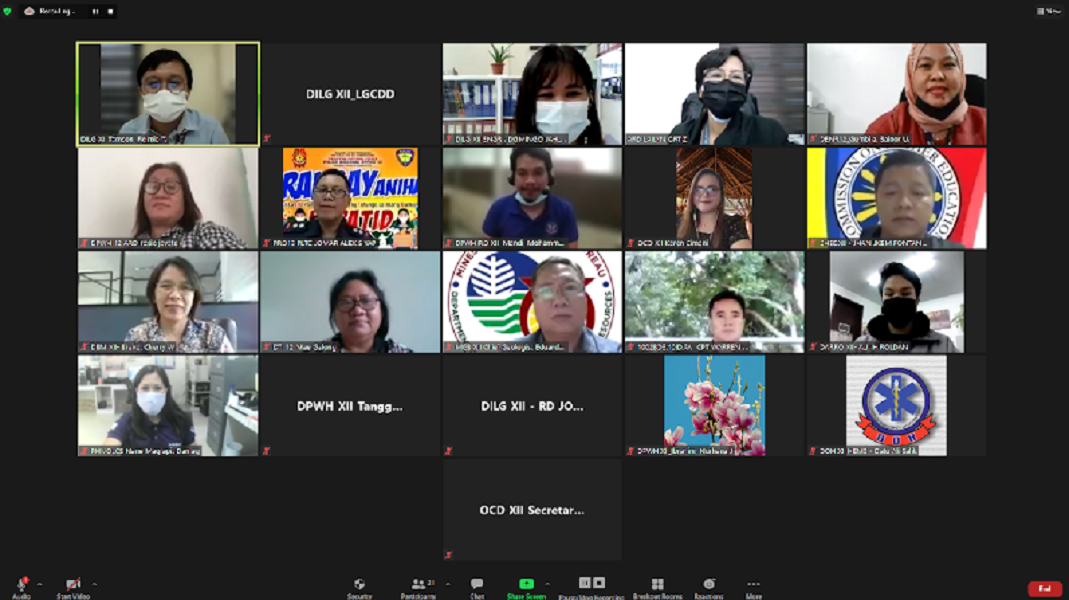 Chairperson of RDRRMC XII, convened the Disaster Preparedness Committee on June 22, 2021, via zoom platform. The virtual meeting was attended by OCD, DENR, MGB, CHED, PAGASA, DAR, DPWH, 1002nd Brigade of Philippine Army, PNP, PHIVOLCS, DTI, DOH-CHD, and DBM.
In her Opening Message, RD Josephine Cabrido-Leysa, CESO III underscored the importance of preparing the communities for natural events and emergencies amidst the COVID-19 pandemic. She recognized the innumerable contributions of the LGUs and RLAs in responding to COVID-19 pandemic but she reiterated the looming threats of other hazards which the Region can only be ready by working and acting proactively. She sympathized with the bereaved families of the hundreds who died due to COVID-19 and hoped that it will not happen if natural events occur.
During the meeting, the members were able to discuss the Weather Outlook and Preparedness Measures for the Rainy Season, Compliance of the LGUs on Public Service and Continuity Plan (PSCP) Formulation/Updating, and Updates on LGUs Funds for COVID-19. As a result, the committee has adopted two Resolutions, namely: Resolution Enjoining the LGUs to Conduct Proactive Measures for the Rainy Season, and Resolution Commending the 18 LGUs which have Fully Implemented their Bayanihan Grant Projects as of May 31, 2021.
The Committee serves as the platform of the RLAs to coordinate and harmonize efforts in readying the vulnerable communities of the Region. This is still part of the various initiatives of the DILG XII in building a safer, adaptive and disaster-resilient SOCSKSARGEN Region.