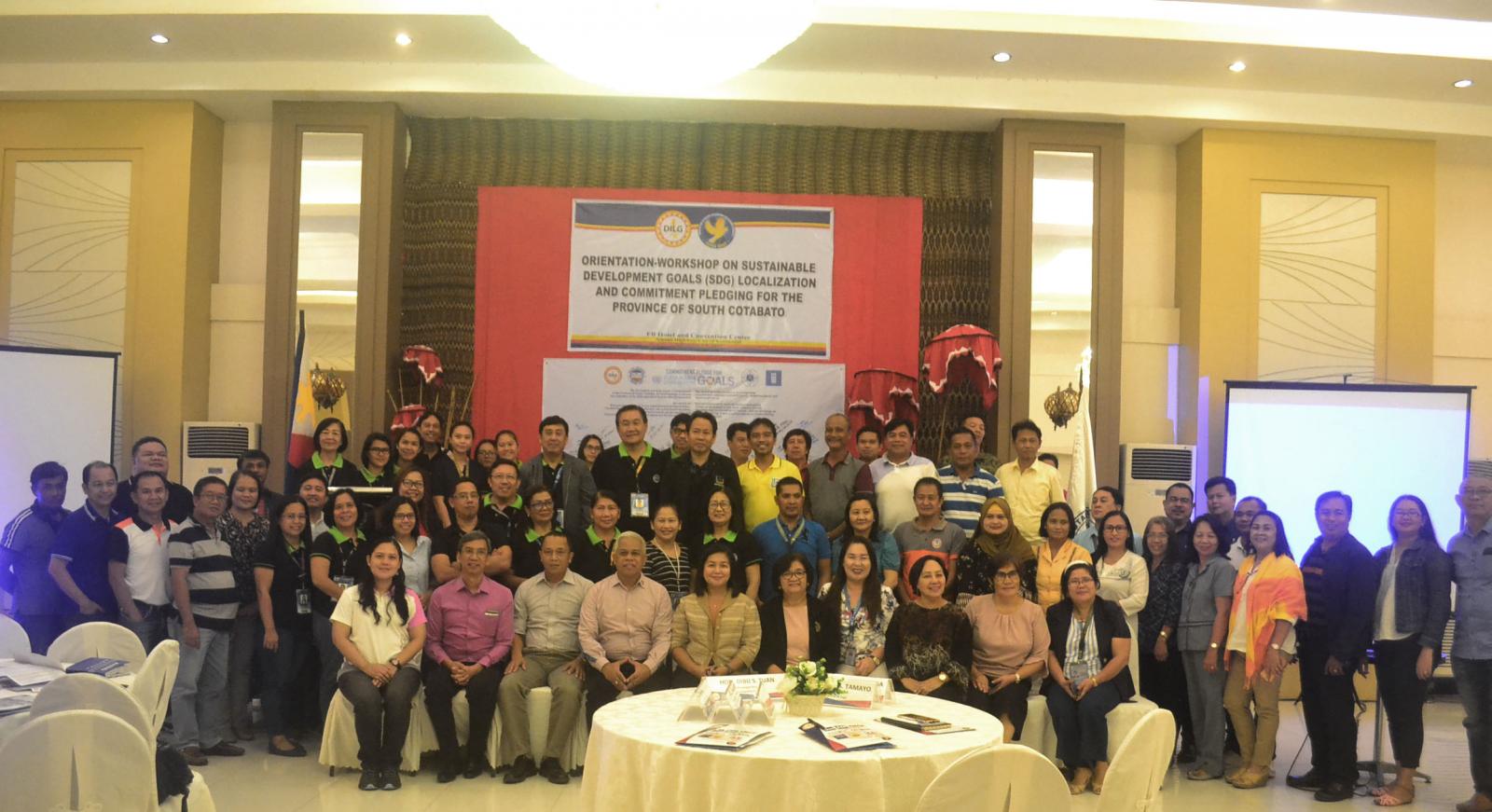 The Department of the Interior and Local Government (DILG) has shown the province of South Cotabato its support in cascading the Sustainable Development Goals (SDGs) in its component cities and municipalities through the Roads2SDGs Project.
"Efficient, resilient, and well-planned road networks ensure that no one is left behind in the drive for inclusive growth. It serves as an important foundation in attaining the Sustainable Development Goals," said DILG Regional Director Josephine Cabrido-Leysa, CESO V as she welcomed the participants and guests during the two-day event facilitated by South Cotabato in partnership with DILG and United Nations Development Program (UNDP).
South Cotabato, the Region's pilot province in this project and among the 21 pilot areas in the country, led the SDGs Commitment Pledge and Workshop for its municipalities and cities last September 5-6, 2019 in Koronadal City.
Governor Reynaldo S. Tamayo Jr. led the pledge and signing of the SDG commitment along with some local officials and employees, national government agencies, and civil society organizations.
DILG CMGP Program Manager Engr. Rosalinda Ilaya lauded the Provincial Government's initiative in including its municipalities and cities in the attainment of the 2030 SDG goals and their commitment to quality roads through good governance. Furthermore, she praised the full support and partnership of the local government units, civil society groups, and national government agencies in the province.
As a response to this support from various stakeholders, Governor Tamayo has vowed to institutionalize more reforms in the implementation of road projects to bring development in local communities. Localized tools and processes are also being developed to comply with Roads2SDGs indicators.
Tamayo targets to achieve the SDGs in 2025, five years earlier than UNDP's 2030 target.
Roads2SDGs or "Paving the Road to SDGs through Good Governance" is a project in partnership with the DILG and UNDP that aims to improve the provincial roads and connectivity in the country while addressing the various goals of the SDGs to help end poverty and hunger by 2030.