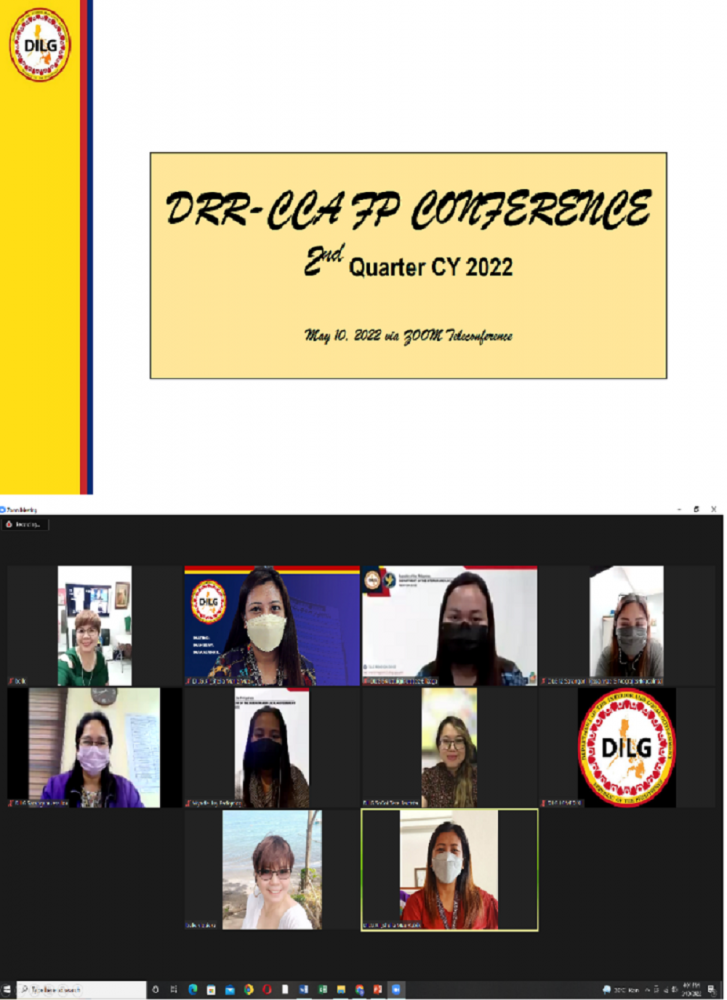 The 2nd Quarter DRR-CCA Focal Persons' Conference held on 10 May 2022 via Zoom Teleconference provides a platform to discuss current concerns and issues on DRR-CCA program implementation among DILG Provincial Offices and local government units of Region 12, and further enhance the cooperation among Regional and Field Office program holders on disaster management. The meeting was attended by all DILG Provincial and City DRR-CCA Focal Persons and tackled the following agenda:
National Simultaneous Earthquake Drill (NSED) CY 2022 (2nd Quarter);
Compliance of LGUs on certain reports;
Targets for the First Semester of CY 2022;
Gawad Kalasag Virtual Validation for LDRRMCO Category;
OCD Trainings CY 2022; and
Others
The meeting helped formulate strategies on how to smoothly implement the remaining program targets for the 1st Semester of 2022, which include, the participation of DILG Regional and Field Offices in the 2nd Quarter National Simultaneous Earthquake Drill on June 9, Local Climate Change Action Plan-Training of Trainers (LCCAP-TOT) on May 25-27, and LCCAP Training for LGUs and June 8-10, respectively.
Recommended actions were also formulated by the focal persons such as: the selection of priority LGUs in the LCCAP Training should make reference to the result of SGLG Regional Calibration and at least 2 weeks advance notice to LGUs prior to the training schedule. Focal Persons also raised concern about the provision of Hazard Pay for LDRRMOs as well as the re-organization of the DRRMO Regional Officers that could possibly be tackled in the 2nd Semester RDRRMC-Disaster Preparedness Committee Meeting.
The Meeting was facilitated by the Local Development Capability Development Division (LGCDD) thru its Regional DRR-CCA Focal Person, LGOO IV Sheila Mae Kubik.