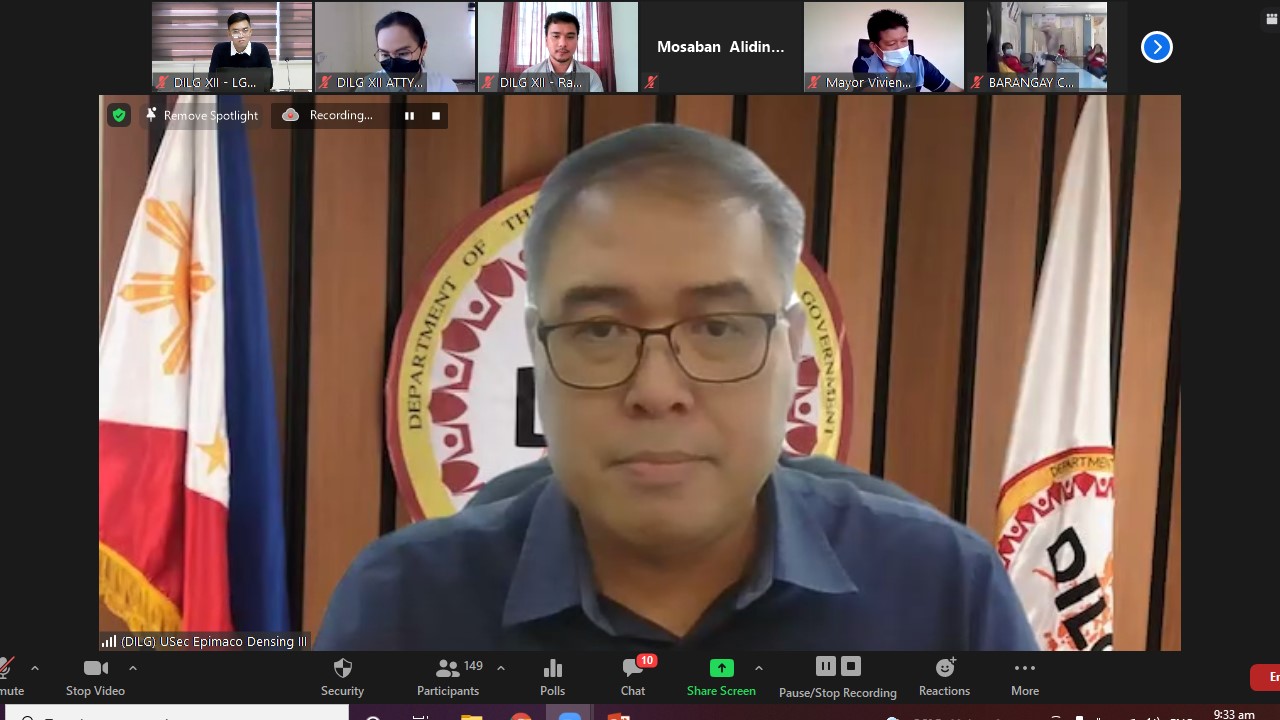 To reinstill the accountabilities of all elective and appointive officers and employees of the local government units and the Department of Interior and Local Government XII, through its Local Regional Resource Center in coordination with the Bantay-Korapsyon Program- PMO conducted the Usapang Legal 2.0: BKP Webinar on Reinforcing Public Accountability for Local Governments and Civil Society Organizations.
In her welcome message, DILG-12 Regional Director (RD) Josephine Cabrido- Leysa CESO III, accentuated the importance of reinforcing and re-echoing public accountability to local elective officials and participative governance with Civil Society Organizations.
"During this time of uncertainties, it is much more expected that public officers and employees must all at time be accountable to the people, serve them with utmost responsibility, integrity, loyalty, and efficiency; act with patriotism and justice, and lead modest lives," Leysa said.
Usec Epimaco V. Densing III, Undersecretary for Operations of DILG also gave an inspiring message to the participants. He emphasized that the fight for corruption is teamwork between the government and its citizens. "Public office is a public trust, and this means that public servants like us are at all times accountable to the people," Densing said.
Three (3) sessions covering the following topics were tackled: (1) Bantay-Korapsyon Program Citizen Participation in Anti-Corruption, (2) Salient Features of RA 3019, and (3) Salient Features of the Revised Penal Code relative to felonies/crimes committed by public officials. Mr. George A. Mapile Jr., Program Development Officer III of BKP-PMO shared a holistic discussion of BKP Citizen Participation in Anti-Corruption.
On the other hand Atty. Servillano Santiago A. Lorenzo III, Regional Director of the Public Attorneys Office XII led the discussion in the second session with the Salient Features of RA 3019 and RA 7080.
For the third session, Atty. Prima Jesusa B. Quinsayas- Mangelen, Deputy Regional Prosecutor of Region 12 discussed the provisions of the Revised Penal Code related to felonies and crimes committed by public officials.
The activity was attended by 162 local government officials, CSOs, DILG personnel, and invited regional line agency. Participants were given an opportunity to ask questions, raise concerns, and comment on the topics during the forum.
At the end of the activity, participants were able to acquire additional knowledge and relearn policies and laws on the subject matters discussed to further the National Government's cause to fight corruption.