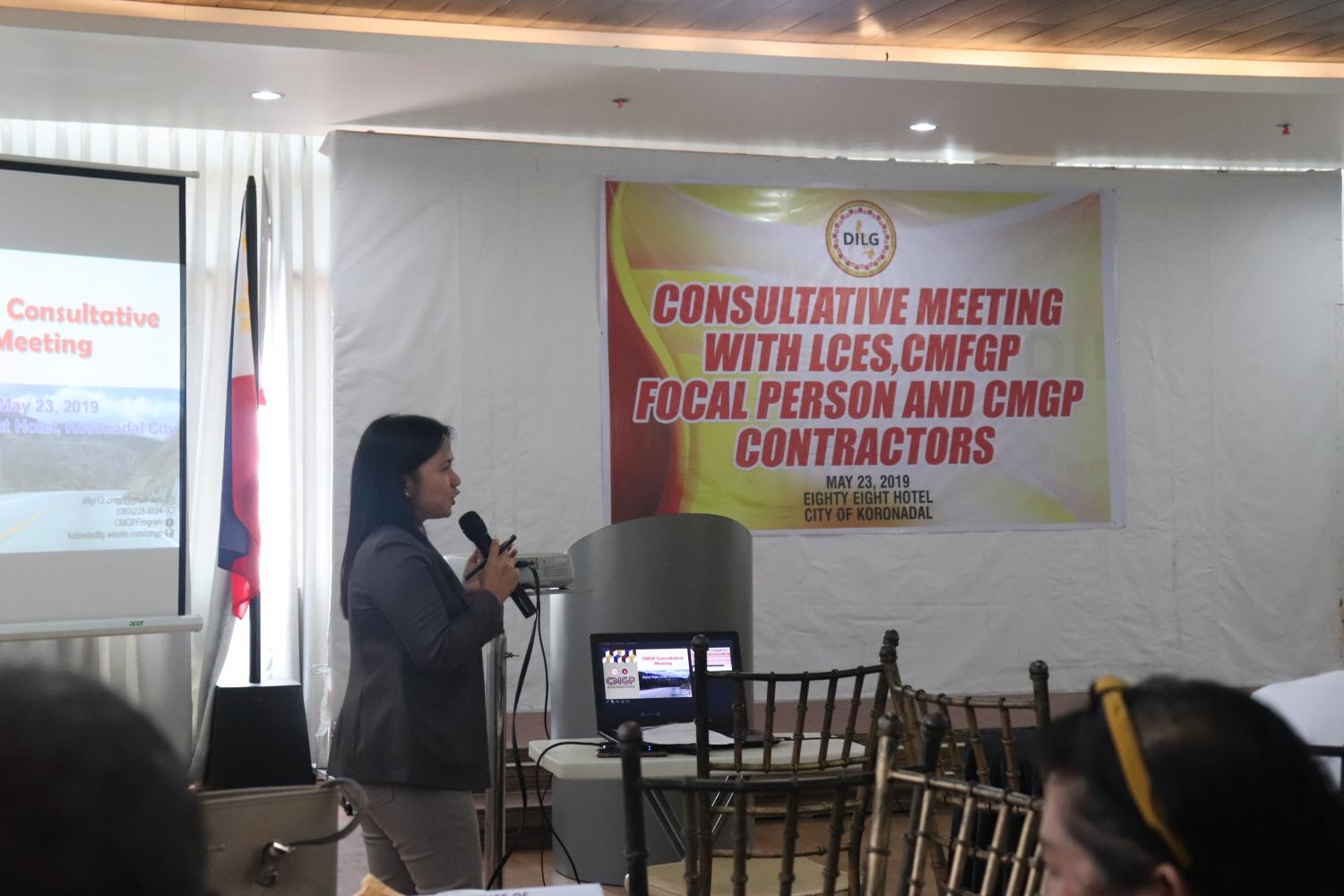 CMGP is a partnership program between DILG & DBM for Provincial Governments to address the poor state of local roads across the country to improve national-local roads connectivity by enhancing capacities of PLGUs in Local Roads Management (LRM) and Public Financial Management (PFM).
Out of sixty three (63) projects in Region 12, there are twenty eight (28) CMGP projects completed, twenty (20) projects are ongoing, One (1) is under procurement, and fourteen (14) are under review.
During the implementation stage of the project, there are challenges in the field that needs to address in the higher level of authority thus, consultative meeting with the LCEs, CMGP focal person, Provincial Engineer and the Contractor is necessary.
DILG-XII through the PDMU conducted the CMGP Consultative meeting on May 23, 2019. The said activity was attended by Rosalina DS. Ilaya, Project Manager, Engr. Gilbert Mercado, CMGP Engineer, UNDP Technical Engineers, PDMU Engineers, Provincial Engineers, Project Engineers, CMGP Focal Person, and the contractors of every CMGP projects in the Region. 
The meeting started at 9:00 o'clock in the morning. Atty. Michelle Anne P. Viejo, presented the Director in the Opening Message.
In the meeting proper, Project Manager Rosalina DS. Ilaya, presented the CMGP briefs and the Project status of the Region. Based on the presentation, Cotabato Province is on rank 24, Sarangani Province is rank 26, South Cotabato Province is rank 27, and Sultan Kudarat Province is rank 71 on the Absorptive Capacity of Provinces (ACP).
Engr. Herminia S. Ontoy, discussed the project status and the challenges of every CMGP Projects in the region.
During the open forum, it was reiterated that the projects should be inspected by the Provincial Project Monitoring Committee (PPMC) prior to the released of final billing of the contractor. It was discussed that the Province should regularly update the status of CMGP project in the Data Captured Form (DCF) for it is the basis for reporting of the DILG Central Office. And it was clarified during the meeting that the completed projects with defects should be reported as 100% physical accomplishment; however, the contractor will not be paid if he/she will not rectify all the defects that was stated in the punch list.  
The contractors together with the Project Engineers and the CMGP focal persons fill in the data and affixed their signature on the agreements that were made during the discussion.
The meeting ended with a closing remarks delivered by Engr. Herminia S. Ontoy, PDMU Chief, requesting each member of the CMGP Teams to always keep track of the agreements and the deliverables.