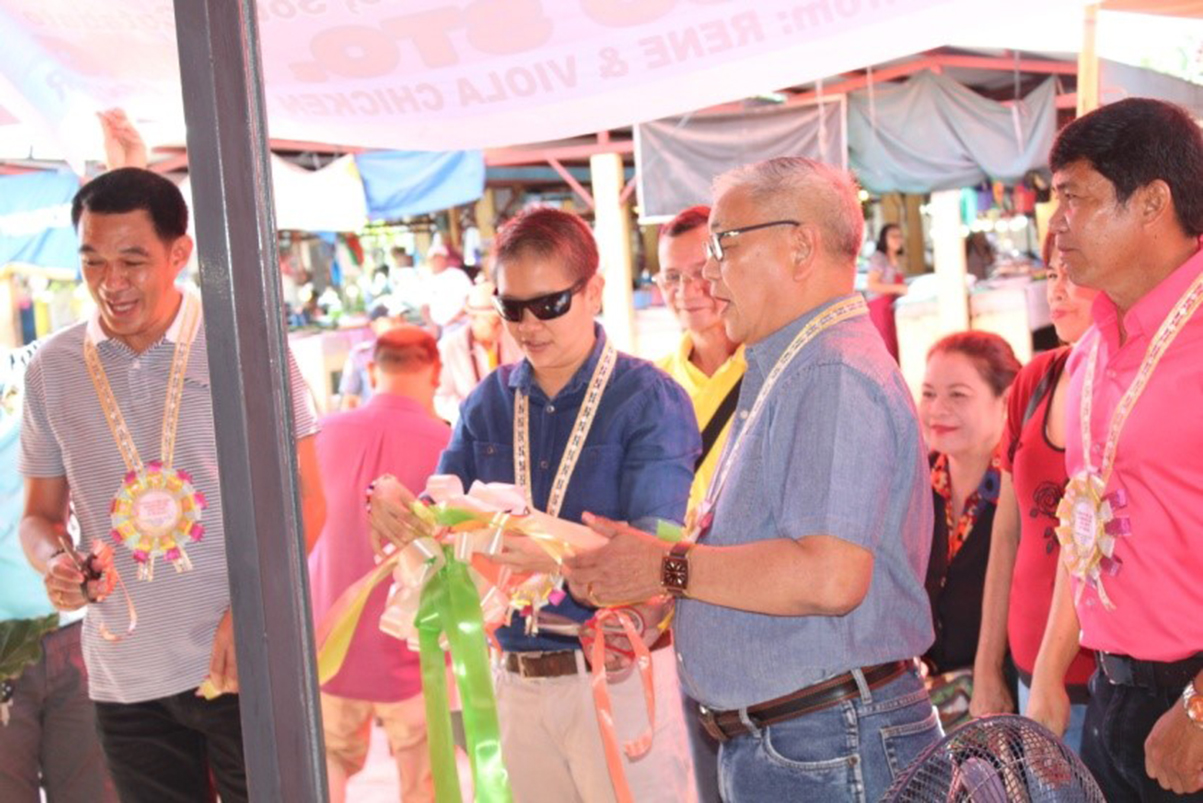 Local Government Unit (LGU) of Sto. Niño Hon. Mayor Pablo M. Matinong and Hon. Vice Mayor  Sulpicio F. Villalobos together with guest Department of the Interior and Local Government (DILG) XII Regional Director (RD) Reynaldo M. Bungubung, CESO IV, DILG-South Cotabato Provincial Director (PD) Aurora Andrea G. De Pedro and DILG-South Cotabato Outcome Manager (OM) Eleanor C. Magbanua led the cutting of ribbon and ceremonial turn-over of the Assistance to Municipalities (AM) 2017 Road Projects and Performance Challenge Fund (PCF) 2016 Project last April 17, 2018 at 9 o'clock in the morning at Brgy. Poblacion Public Market.
The ceremony was also graced by the Sangguniang Bayan Members, Punong Barangays and the municipal officials and employees.
LGU Sto. Niño through the Municipal Engineering Office (MEO) with funding assistance from DILG Region XII finally inducted the turn-over of the following AM 2017 Projects: Concreting of Road in front of Baptist Church to Central Elementary School amounting to P1,871,618.55; Concreting of GP Santos Road- Lapu-Lapu Junction- Elementary School amounting to P1,125,687.71; Concreting of GP Santos Road (P. Guarde Junction-Fincale Portion) amounting to P3,695,893.83; Concreting of Road infront of Brgy. Hall to Lapu-Lapu Junction (Phase 1) amounting to P2,641,182.45; Concreting of Road at Macapagal St. (Junction M. Roxas Boulevard to Barcelona Junction) amounting to P1,709,513.80; and Concreting of Road at New Public Market amounting to P3,413,103.66. A total of P14, 457,000.00 from DILG Region 12 was given to LGU Sto. Niño for the implementation of their AM 2017 Projects. 
Likewise, LGU Sto. Niño was aided financial support amounting to P3, 000,000.00 from DILG Seal of Good Local Governance (SGLG) Performace Challenge Fund (PCF) 2016 used in the Construction of their Ten (10) Market Stalls which was also inaugurated on the same day.
In his message, guest Speaker DILG XII RD Bungubung congratulated the LGU for ranking first in Region 12 in the completion of AM Projects 2017 and PCF Project 2016. He has appreciated the efforts of the LGU officials and employees for passing the test of good governance as they have earned the coveted Seal of Good Local Governance (SGLG) of the DILG for two (2) years in a row from 2015 to 2016. A very good indication of improving governance and striving excellence that RD Bungubung would like them to continue for the betterment of the people in their community.